Sewer explosion forces evacuations near University of Minnesota
MINNEAPOLIS, Minn. (FOX 9) - Firefighters have given the okay for University of Minnesota facilities to reopen Thursday night after a fire, gasoline spill, and explosion forced evacuations in the afternoon.
The Minneapolis Fire Department said they responded to a fire in the basement of a building on the 1700 block of University Ave southeast around 3 p.m. Upon arrival, firefighters found heavy smoke and flames coming from the basement of the building. Crews located the fire and worked to put it out.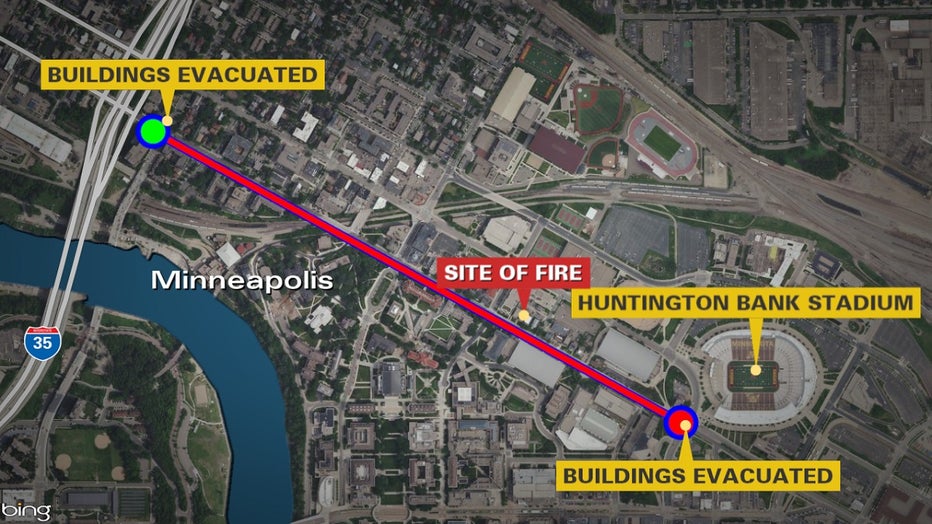 This map shows the evacuation area at the University of Minnesota and the location of the fire.  (FOX 9)
As crews were extinguishing the fire, there were reports of an explosion in the sewer that blew off manhole covers from 18th and University possibly down to 10th and University. The Minneapolis Fire Department said the explosion was due to a possible gasoline spill in the sewer line. Firefighters tell FOX 9 they are hearing reports of similar gas smells coming from sewers in St. Paul.
Firefighters are still receiving calls for gas odors in the Minneapolis area. They are monitoring buildings as the calls come in and evacuating as needed. No injuries have been reported from the fire or explosion at this time, the department said. 
Several witnesses told FOX 9 they thought they could smell fresh paint or gas for the last couple of days, and it suddenly got worse today. Then they heard the explosion. 
"The sound was so loud. It was like a boom that took me off my feet," one man told us at the scene. 
"Honestly, I've never heard a sound like that. It's frightening," another man said. 
Aerial video from FOX 9's helicopter showed no visible damage on the block to any of the buildings. Numerous fire vehicles and crews were on the scene throughout the afternoon. Around 9 p.m., the University of Minnesota said they had received the all-clear from firefighters to reopen facilities.
People affected by evacuation can go to the Northrop Auditorium for shelter. Children at the YMCA have been evacuated and placed on MTC buses for shelter. A daycare on 16th Ave southeast was also evacuated to Bierman Field near the university, according to the fire department.