Black Lives Matter plans to shut down Red Bull Crashed Ice in St. Paul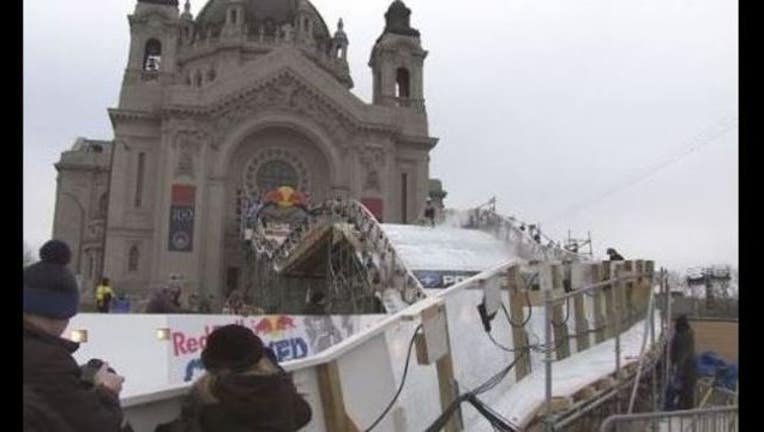 article
ST. PAUL, Minn. (KMSP) - Black Lives Matter-St. Paul announced plans Monday to shut down the Red Bull Crashed Ice event in St. Paul on Feb. 27. The hashtag #BlackIce is being used to promote the protest.
Last year, a record 140,000 people attended the popular downhill ice cross competition at the Cathedral of Saint Paul.
Leaders said this demonstration will focus on St. Paul Sgt. Jeffrey Rothecker, who was put on paid administrative leave after urging drivers on Facebook to run over Black Lives Matter protesters at a MLK Day rally.
BACK STORY- St. Paul police sergeant urged drivers to hit Black Lives Matter protesters
"We are not surprised that Jeffrey Rothecker is still on paid administrative leave, but we find it detestable that he still holds the title of St. Paul Police Officer and continues to represent this institution," the group said in a press release Monday.
Black Lives Matter said the #BlackIce protest will take place at 5:30 p.m. if the following demands are not met:
1.Terminate Jeffrey Rothecker's employment without pension and strip him of his license to be a peace officer anywhere for the rest of his life. Do NOT accept his resignation.
2. Re-investigate every case in which Rothecker's investigation(s) contributed to a conviction.
3. Mayor Coleman-initiate the process to eliminate the progressive discipline policy in the collective bargaining agreement. Progressive discipline is what allows white supremacist officers like Rothecker to be disciplined seven times and still remain employed.
4. City Attorney Sammy Clark and County Attorney John Choi-file criminal charges against Officer Rothecker for a minimum of Disorderly Conduct and Terroristic Threats. The data shows that you have no problem when it comes to charging black people and other people of color in the City of St. Paul and Ramsey County.
Governor Dayton, you are a white supremacist, you have no problem calling us domestic terrorists and saying we are inappropriate, but have yet to open your big mouth against a fellow white supremacist who was inappropriate and has admitted to criminal offenses.
5. Governor Dayton, appoint a new POST certification board to include black and brown people who reflect the communities with the most disparities in the criminal justice system.
6. Governor Dayton, follow the lead of Governor Brown in California and author an Executive Order barring the Grand Jury process in police involved homicides and assaults.
7. Department of Justice, re-open the Marcus Golden case, he didn't have a gun in the initial report from St. Paul Police, and officers Doverspike and Peck didn't advise dispatch via police radio or squad car laptop that they were on scene. Both of those facts should leave the average honest human being with reasonable doubt that police officers were protecting and serving, and if re-investigated and brought to a jury of our peers would lead to a conviction and JusticeForMarcus.
Video from last year's Red Bull Crashed Ice event can be seen here.
SEE THIS NEXT- St. Paul police sergeant apologizes: 'I am extremely sorry for posting what I did'