As baby faces rare genetic disorder, Minnesota family raises $70K for therapy
MINNEAPOLIS (FOX 9) - At almost one year old, Megan and Charlie Hieb's daughter Lucy faces unique challenges brought on by CTNNB1. The rare genetic syndrome affects just a few hundred people in the world, but its effects are life changing.
"Intellectual delay, cognitive delay, developmental delay," Megan said. "When you find out your child has this you have to recalibrate your whole life… it's like my life kind of went before my eyes."
CTNNB1 syndrome can hamper nearly every aspect of life, including the ability to walk, talk and think. There aren't any known treatments for the condition; so Lucy is spending four days a week in physical therapy.
Ahead of her first birthday on Mar. 31st, her parents decided to start a two-month fundraiser. They're working with the CTNNB1 foundation to do their part, trying to raise $100,000 to help fund new CTNNB1 gene therapy. "We have raised almost $70,000 in five days, we're blown away," Megan said.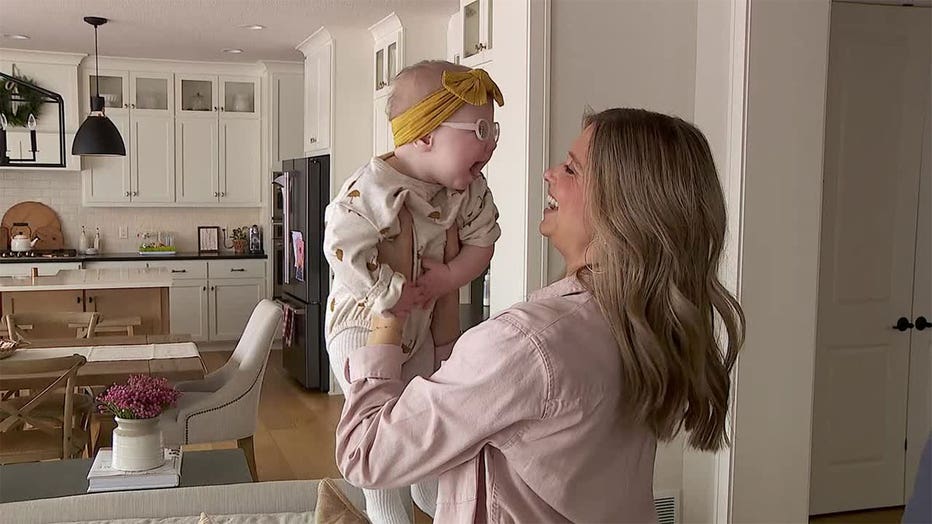 Baby Lucy laughs in the arms of her mother. (FOX 9)
With everything going on, Megan's health has added to the family's stress. The mom of two was diagnosed with chronic kidney disease and needs a kidney.
"So we're spreading the word about her syndrome, and my need for a kidney, and we'll see what happens," Megan finished.
On Feb. 26, at Golden Valley's Mainstream Boutique, organizers will have a Shop for a Cause day, with 20% of all sales donated to "Love for Lucy." 
Anyone interested in being screened to be a kidney donor can reach out to Megan's coordinator here.