Alleged Mankato-area robbers butt dial 911, found hiding inside sheriff's gun range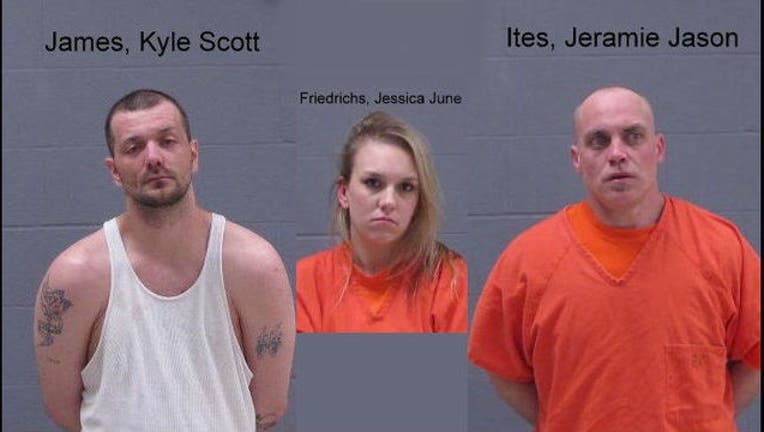 article
Bonnie and Clyde they aren't.
Kyle James, Jeramie Ites, and Jessica Friedrichs were arrested in connection with the robbery of North Mankato Supply after one of them accidentally butt dialed a Blue Earth County police dispatcher.
According to information from Blue Earth County Sheriff's Office, around 3:45 a.m. this morning, a dispatcher took a call and could hear two men talking, but couldn't establish contact with them. Their conversation, however, made it sound as though they were possibly involved in a theft or burglary.
The dispatcher monitored the call for more than 30 minutes and the caller's location was eventually traced to just north of the Mankato city limits.
Law enforcement was sent to the area, and once there, they found James and Ites hiding inside the Blue Earth County Sheriff's Office Gun Range. Friedrichs, meanwhile, was found waiting in a nearby vehicle inside Pilgrim's Rest Cemetery.
Items found in possession of the suspects led investigators to North Mankato Supply, which is located just across the road from the gun range. Investigators believe they forced entry into the business, ransacked the interior, then left with cash and other items.
All three are currently in custody on suspicion of burglary, and charges are expected to be filed tomorrow. Ites had a warrant out for his arrest, and one of the males (authorities aren't saying which one) has been tied to a burglary that happened on Tuesday.
Captain Rich Murray of the Blue Earth County Sheriff's Office tells Fox 9 all three are "frequent fliers" well known to area authorities.