After more than a century, barber shop in historic Grain Exchange Building to make final cut
MINNEAPOLIS (FOX 9) - For more than 100 years, customers have been getting their haircut behind a nondescript door in the Grain Exchange Building in downtown Minneapolis. But soon this old-school barber shop will be history.
"It's awful. A big part of who I am is wrapped up in this, and it's wrapped up in this location," said Grain Exchange Barbershop owner Bob Haddow.
Haddow bought the business a decade ago, and he believes it's one of the oldest barber shops in Minneapolis.
But he says the building was recently sold, and the new owners want to renovate the lobby and raise the rent, so he decided to close up shop on March 31.
"When you lose a place like this, you're losing a part of your soul. And for the city of Minneapolis, how do you get it back?" said Haddow.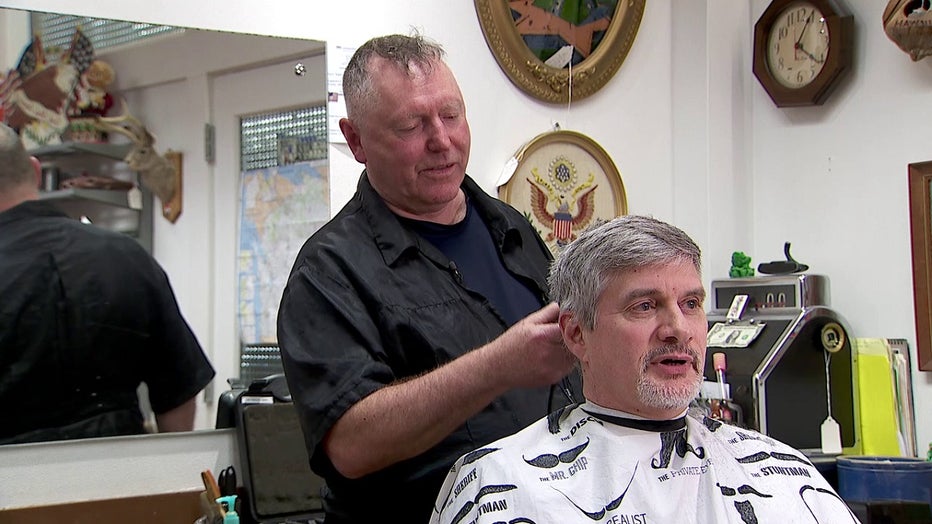 Grain Exchange Barbershop owner Bob Haddow cuts a customers hair. (FOX 9)
Haddow says the barbershop has been operating since the Grain Exchange opened in 1902, but it's hard to see from the street, and he can't put a sign out front because the building is on the National Register of Historic Places.
Plus, most of the grain traders are long gone, and with the unrest following the murder of George Floyd, and most of his customers working from home since the pandemic, Haddow says it's been hard to keep the barbershop afloat.
"The public is not welcome in here and this is a consumer-facing business. It's a barbershop. You have to know I'm here. How would you even know I'm here," said Haddow.
Haddow says he will sell off his tools of the trade this weekend as well as the pictures on the walls he painted as a year-long guest of the St Paul Saints at the old Midway Stadium.
He believes it's the end of an era for lobby barber shops in downtown Minneapolis, and he'll be sad to say goodbye to the last of its kind.
"This is just one door closing for me, that's all. It's just one door closes, another one will open. I'm fine," said Haddow.