Adam Johnson remembered at funeral in Hibbing
HIBBING, Minn. (FOX 9) - Adam Johnson, the former Hibbing hockey star who died in a tragic incident on the ice, was remembered Monday during a public ceremony in Minnesota.
Mourners, including friends, family, former teammates, and coaches, packed into the Hibbing Memorial Arena, where Johnson once made a name for himself playing high school hockey.
Johnson's skills led him to Duluth to play college hockey and to the sport's highest levels, playing in the NHL with the Pittsburgh Penguins. When he died, he was playing with the Nottingham Panthers in the Elite Ice Hockey League in the United Kingdom. His family told FOX 9 last week he was preparing to step away from the sport he loved and start the next chapter in his life.
Johnson died after his neck was cut by another player's blade during a game in Sheffield.
Monday, Johnson was remembered not only as a talented athlete but a kind soul.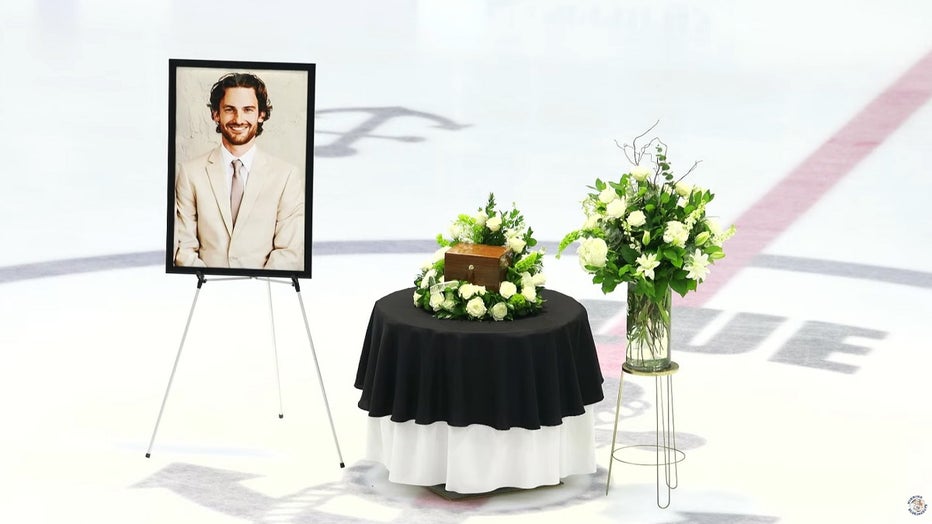 Adam Johnsons photo at center-ice at the Hibbing Memorial Arena, as funeral services were underway on Monday, Nov. 6, 2023. (FOX 9)
"I have said to myself, 'This one won't heal,'" lamented Grant Clafton, a friend and former coach of Johnson's, who fought back tears as he spoke. "There will be a little hole, forever, that will never fill. After laying in bed, staring at the ceiling for the sixth night, I've decided to fill that hole back in with Adam."
"I suggest you all do the same," Clafton added. "Fill it with that huge smile, the laughter, and the jokes you shared with Adam, and he will continue to live forever in your heart."
Johnson's hockey coach at Duluth, Scott Sandelin, also took the podium to share some memories.
"He always had that sly, little grin," said Sandelin. "He had a great wit. He was very humble. He was caring. He was loved by his teammates, he was loved by our staff."
Also eulogizing Johnson was the woman he was set to marry. Ryan Wolfe shared a message she would have given Adam on their wedding day.
"I want you to know how much I love you and adore you," Wolfe recited. "You've been so amazingly supportive and kind to me since the day we met. I couldn't have been more grateful for it. I always thought, maybe if I was lucky enough, after a lifetime together, I might start to be more like you. You're such a special person."
Monday's tribute followed a private ceremony on Sunday for Johnson's family. Along with those at the Hibbing hockey arena on Monday, thousands more from across the globe watched the ceremony online.