'Untamed Heart': This year marks 30th anniversary of Minnesota-filmed movie
MINNEAPOLIS (FOX 9) - At the corner of 4th and Central in Northeast Minneapolis, only a faded sign hints at the property's hidden history.
The office building used to be the home of a neighborhood staple, but more than 30 years ago, it took a star turn in a Hollywood movie.
For a couple of months in 1992, a film crew descended on Jim's Coffee Shop and Bakery to shoot Untamed Heart, starring Christian Slater, Marisa Tomei, who had just won an Oscar for "My Cousin Vinny," and Rosie Perez.
The movie is about an unlikely romance between Tomei's character, Caroline, who is a waitress at Jim's, and a shy busboy named Adam, played by Slater.
Local actor and Pepito's owner Joe Minjares played the fictional owner of the vintage coffee shop, which was one of the main locations in the movie.
"It was something I've always wanted to do and be in the movies. I felt really proud that I got the part and I felt like a star for a day," said Minjares.
He recalls Perez, who was coming off the success of White Men Can't Jump, telling him about being typecast at that time in her career.
"We were in the make-up chairs and she was talking about getting a lot of offers. But they were all Mexicans and I said I was Mexican. She says "I want to play a Puerto Rican once in a while, which she is," said Minjares.
The film was originally set in New Jersey and was supposed to be shot there, but director Tony Bill, who produced the 1973 Academy Award-winning movie "The Sting," reportedly fell in love with Jim's during a location scouting trip to Minnesota and decided to move the movie to Minneapolis.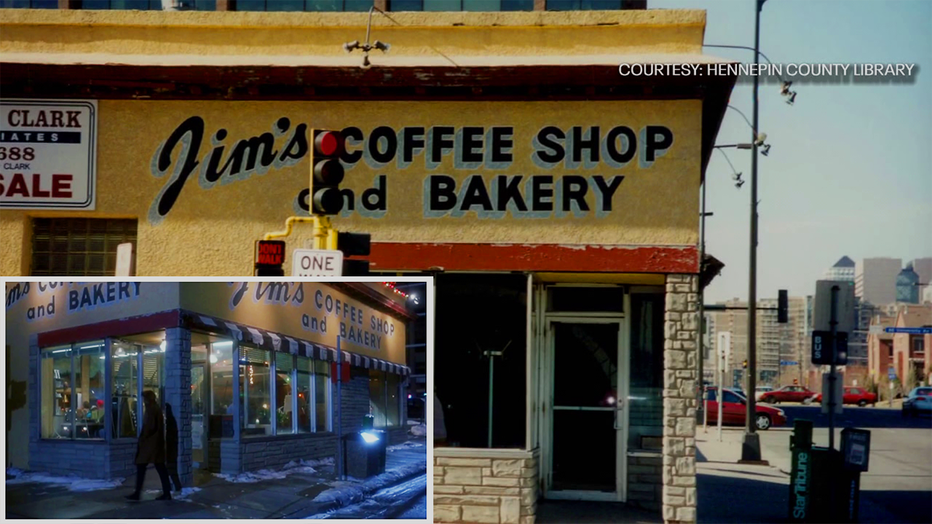 A still from the 1993 Marisa Tomei and Christian Slater film Untamed Heart with a photo from the Hennepin County Library of the shop where the film was made in Minneapolis. (Supplied)
"It was an old school kind of, hardly changed at all, really great looking, you know, kind of vintage coffee shop. It had been there for a long time at that point," said Robert Graf, who was the location manager for Untamed Heart.
The Prior Lake native has gone on to executive produce movies by fellow Minnesotans the Coen brothers, like No Country For Old Men, among others.
He says Jim's became the anchor for the movie, but the crew also shot in other locations around Northeast. 
"You're using a real neighborhood, using other locations in the same neighborhood. It starts to just sort of feel, you know, real in a layered kind of a way," said Graf.
In fact, Graf remembers hosting a community meeting to convince nearby business owners to allow the crew to film in the neighborhood.
He had to make special accommodations to use a parking lot behind Jim's that was owned by the late Aveda founder Horst Rechelbacher, who had a training institute for hairstylists across the street.
"Everyone who came to Horst got valet parking for two or three weeks while we were shooting, because it was the only way that I could get them to give us the parking lot," said Graf.
The movie also contains several local references, from Frogtown to the Lowry Hill tunnel.
Eagle-eyed viewers may also recognize other spots around the Twin Cities, like Riverplace, Prince's one-time club Glam Slam and a Northstar's game at the old Met Stadium.
The movie is a time capsule of sorts for the 90's and some elements haven't aged well, like Adam following Caroline home at a distance after work and admitting he sneaks into her parent's home at night sometimes to watch her sleep. 
Then there's Tomei's attempt at a Minnesota accent, but Graf believes the love story's baboon heart, which was the original title during the shoot, was in the right place.
"It's not the most well known of all the movies made in Minnesota or even all the movies that I've done. I think ultimately it's a sweet movie," said Graf.
The coffee shop eventually closed in 1997 and the building is now offices for I-N, a clean hair and skin care brand also founded by Rechelbacher.
It's been decades since Minnesota had a recurring role on the silver screen, but Minjares believes his home state deserves another shot at the limelight.
"I think they should do more. In that period of time, they were doing movies here and I think they should do more," said Minjares.