Mourners say 1 East Ridge student killed, 4 injured in Woodbury crash that split car in half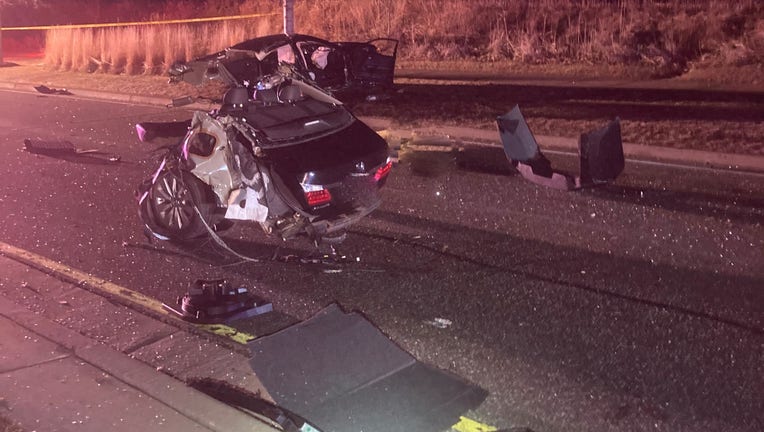 WOODBURY, Minn. (FOX 9) - One teen boy died and four others were sent to the hospital after a crash Saturday night in Woodbury, Minnesota.
At the scene, mourners told FOX 9 that all five people in the vehicle were East Ridge students. Officials confirmed Monday that all occupants were 17-year-old boys. The South Washington County School District could only confirm one person in the vehicle was a district student, but said it will provide social workers, counselors, or psychologists for its students when they return to the classroom. A person who lives near the crash site said the part of the roadway has been a problem in the past. 
According to Woodbury police, at about 11 p.m., authorities responded to a single-vehicle accident on Settler's Ridge Pkwy near Sundance Ln. Residents nearby called 911, reporting what sounded like a crash.
Officials responded and began triaging five patients involved in the crash. The 2015 Honda Accord involved in the crash was split in half after striking a tree. One patient was ejected from the vehicle, and died of his injuries. He has been identified as Garrett Bumgarner. A GoFundMe has been set up for the family, which can be found here.
The four other people in the car were transported to the hospital. Officials said the patients are in critical but stable condition.
The cause of the crash is under investigation.
People trickled by the scene throughout the day on Sunday, pausing to pay their respects for a life gone too soon.
East Ridge High School mourns
At the scene, mourners say all five of the passengers were students at East Ridge High School. The district says it will provide social workers, counselors, or psychologists for its students when they return to the classroom -- confirming that at least one of the passengers was a student.
"It's a pretty sad day for this community and for the families, friends and families of the victims," Taylor Kearns said.
"Everyone's mourning, everyone's posting about it... I mean everyone loved him, he was a great kid," neighbor Sophia Stone said.
"I don't think I've ever met anybody so sweet in my life," friend Ryinn Lindahl said. "He didn't deserve this, not to go out like this."
Witness says road is 'a problem'
Taylor Kearns, a man who lives in the corner home next to the crash site, took photographs after he realized something was going on.
"I saw the pieces of the vehicle scattered all over the place so I knew it was pretty high speed impact," Kearns said. "It's really tough. Those are the type of nightmare situations for parents. I'm a parent."
Living in his home for a few years, Kearns says the road in front of it is a problem.
"It goes flat, and it dips, and there's a little lip when it transitions down the asphalt settled and it creates a little lip," Kearns explained.
The lip, or bump in the road, can send cars airborne at high speeds. 
"It compresses, the suspension kind of bumps them up, and then the hills falling away so they 'pachu' coming down," Kearns added. "I've complained to Woodbury police to say you might want to monitor the speed because of that crown there."
Neighbors say the crown is a well-known issue in the area; and they see and hear drivers take off over the bump every day.
"The Woodbury police have put people here and try to monitor the speed here," Kearns said. "I don't think most people intentionally do it, but I'd be willing to bet there's some thrill seekers out there who might know of it and give it a little extra mustard."
Kearns says sometimes those landings are sketchy.
"I've definitely heard people scraping the ground as they land," he explained. "I've heard cars hit bottom from hitting it too fast. You've got to feel for the community, for the families involved, and for the first responders to see something like that, I mean that's pretty awful."