Minnesota weather: Seasonable Wednesday, much colder Thursday
MINNEAPOLIS (FOX 9) - Temperatures will plunge back into the frigid territory before this weekend's warm-up. 
Wednesday will feature closer-to-seasonable temperatures in the afternoon, with a high of around 20 degrees in the Twin Cities and some decent sunshine. 
However, this is not going to last. An area of low pressure is moving in from Canada, which will send temperatures plunging back to the frigid zone for Thursday afternoon through Friday. 
The high will peak in the low teens for the Twin Cities on Thursday, but temperatures will fall through the day, dipping to about 5 degrees for the Twin Cities and below zero for northern and western Minnesota. It will be sunny, though. Friday will be cold too, with a high of 5 degrees in the Twin Cities. 
The frigid temperatures won't last for all that long — much warmer air swoops in for the weekend, as we get into the thaw-zone starting Saturday and into next week. 
Here's a look at the seven-day forecast: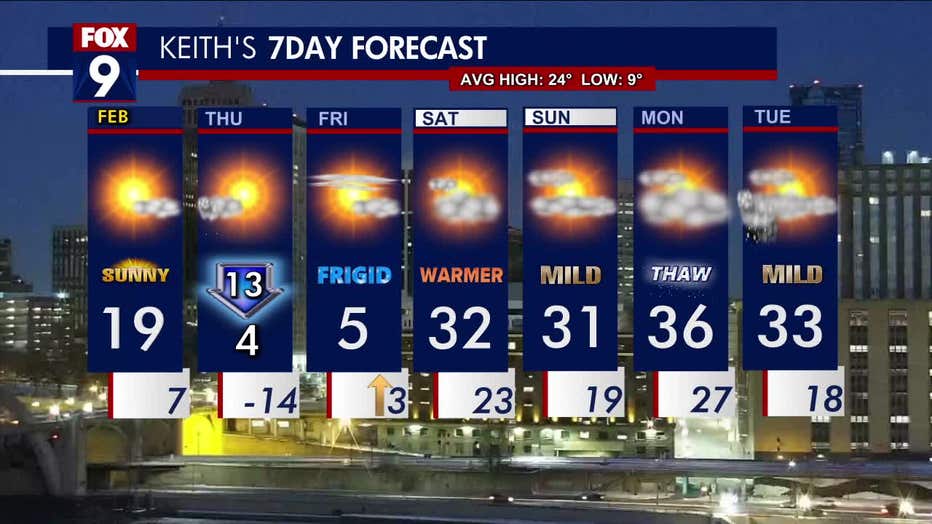 The seven-day forecast features a plunge back to frigid temperatures before a weekend warmup.  (FOX 9)