Minnesota weather: Here's how cold it'll get this weekend
MINNEAPOLIS (FOX 9) - The cold is a'comin! 
The cold that's coming isn't particularly unusual, isn't likely to break any sort of records, and isn't extreme by any stretch. Saying that though, this chilliness will be at least "noteworthy" because of how long it could potentially be around — a week or more. 
We start though with a wild 36 hours:
Thursday night: Southwest breezes increase pulling in warmer air and moisture. This allows temps to quickly rise through the teen and 20s as a few hour dash of light snow rolls from west to east across the area.
Friday morning: That dash of light snow is done by sunrise as winds quickly switch out of the northwest, gusting over 40 mph, leading to some blowing and drifting of our fresh 1 to 2 inches of powder. Temps will also start tumbling, likely back to the upper teens and low 20s by lunch.
Friday afternoon: Gusty breezes and falling temps push wind chills below zero for many locations by mid to late afternoon... with a peek or two of sun possible by the end of the afternoon.
Friday night: Breezes start to subside, but clouds will linger keeping us from falling off the temperature cliff, so to speak. Still though, wind chills will be close to -10 in the Twin Cities by wake-up Saturday morning. Far colder with clearing skies in the north as chills could approach -30 near the Canadian border.
Saturday-Sunday: Light snow in far southern MN early Saturday, then some clearing for a lot of the area will lead to at least some sun both late Saturday & into Sunday. But with clearer skies overnight, temperatures will fall well below zero for the entire area.
Next week: While temperatures will fluctuate a bit, the overall pattern will likely keep temperatures below average with occasional super cold nights, where temps are in the 20s below zero, certainly possible.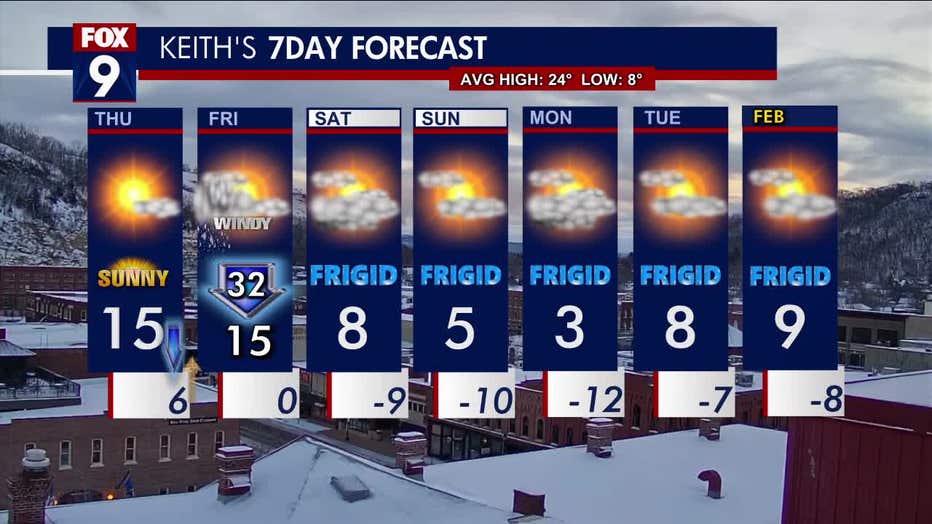 The Twin Cities seven-day forecast, as of Thursday morning.
This cold comes after a very mild few weeks, which has spoiled us. If January ended on Wednesday, it would be the seventh-warmest on record and would be just the fourth January since 1872 that we have stayed above zero for the month. Of course, though, it does not. The cold that starts this weekend will likely drop temperatures well below zero overnight for at least several consecutive nights that will extend into the first part of February. 
But if you've lived in Minnesota over the last few years, this likely isn't much of a surprise. While our Januarys have been hit or miss year to year when it comes to the arctic chill, the month of February has been brutal.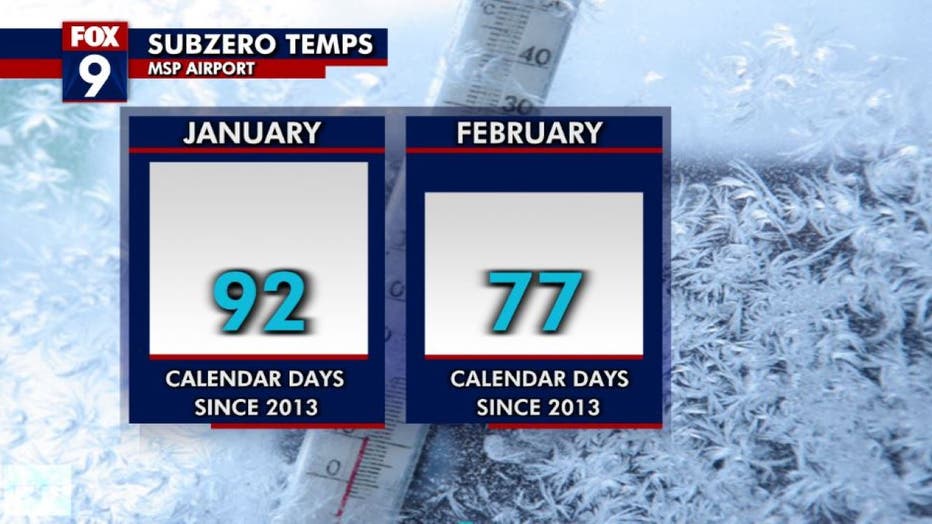 Over the last decade, the month of February has nearly surpassed January as our coldest month. Since 2013, the Twin Cities has officially recorded subzero temperatures on 93 calendar days. For those doing some math, that's roughly 30% of our January days getting below zero. But February has been just about as cold. In that same timeframe, February has recorded 77 calendar days below zero. In several of those years, February surpassed January for the brutally cold days... and it's likely to happen again this year. This is noteworthy because January's monthly temperature is often several degrees below February, but that seems to be changing... and that reason is unknown.