Minnesota weather: Fresher air will clear up air quality issues
MINNEAPOLIS (FOX 9) - Fresher and cooler air moves in throughout the day Thursday. 
Thursday will feature seasonable highs in the low to mid-20s. Northwest winds will bring in a fresher air mass (so long air quality alerts), and while the day will be mostly cloudy, there will be teases of sunshine as the day wears on.
Friday will be sunny and chilly, but calm. The high will be in the upper teens to near 20 for the Twin Cities metro. 
Then a multi-day January thaw begins starting Saturday thanks to a southern flow. Saturday will feature highs in the middle 30s and a partly sunny sky. Sunday will be even warmer, with a high of 39 degrees and some sunshine. 
A light rain-snow mix is possible Sunday night into Monday, but it's looking patchy. Monday's high will be around 36 degrees. 
Tuesday will be mild with a high of 32 degrees and Wednesday will be around 29 degrees and cloudy. 
The average high this time of year is 23 degrees, while the average low is 9 degrees.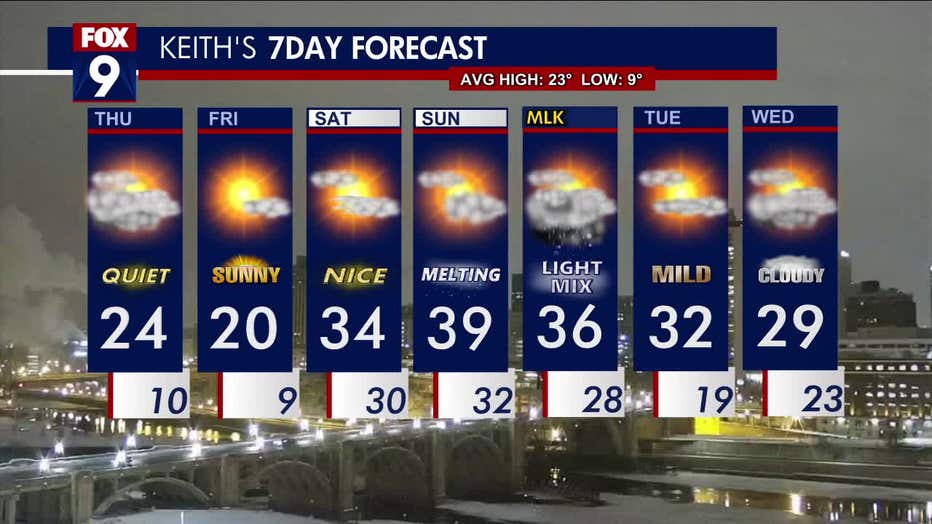 The seven-day forecast as of Thursday, Jan. 12.  (FOX 9)