Minnesota heads out of the deep freeze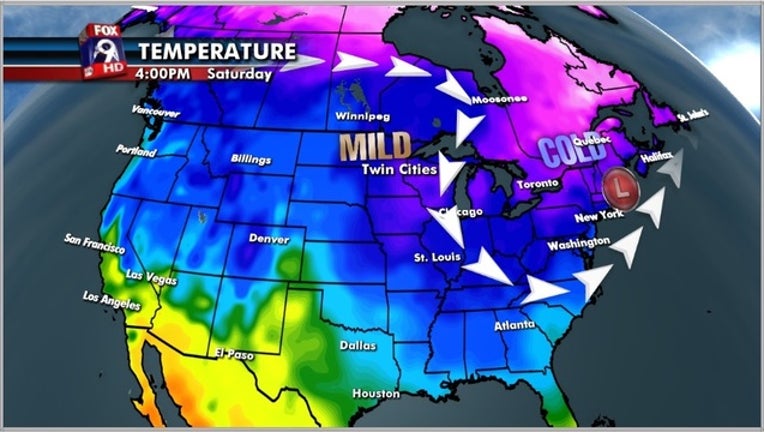 article
KMSP, Minneapolis, MN - Minnesota, and much of the Upper Midwest, took a trip into the freezer this past holiday weekend. The Twin Cities went below zero for the first time early on Saturday morning. Late Saturday, 4 pm to be exact, we dipped below zero and stayed in negative territory until early Monday afternoon, 46 hours total. Although that is not a record for the longest time below zero, in this El Nino season, it was still an impressive cold spell. In case you're wondering, the longest stretch of days the metro spend below zero was 36 days back in 1936.
ANOTHER SUBZERO MORNING
Tuesday was the last of the subzero streak for this latest arctic blast. The metro bottomed out at -6° and will do its best to stay positive for the rest of the week.
MILDER DAYS AHEAD
The dip in the jet stream that gave us a few arctic blasts will move east and allowing the mild air to move north. The map below for this Tuesday shows that dip covering the Great Lakes with cold and that mild air moving more and more north. In case you were wondering, the average high and low for this week in the metro is 23°/7° and we will most likely be above average as we head into the weekend. 
The forecast map for Saturday shows the jet stream way north of Minnesota allowing for mild conditions to make a comeback. However, our dip tightens up and that low will ride up the East coast of the country this weekend with the potential for winter storm for New England.