Heat wave set to intensify for many parts of Minnesota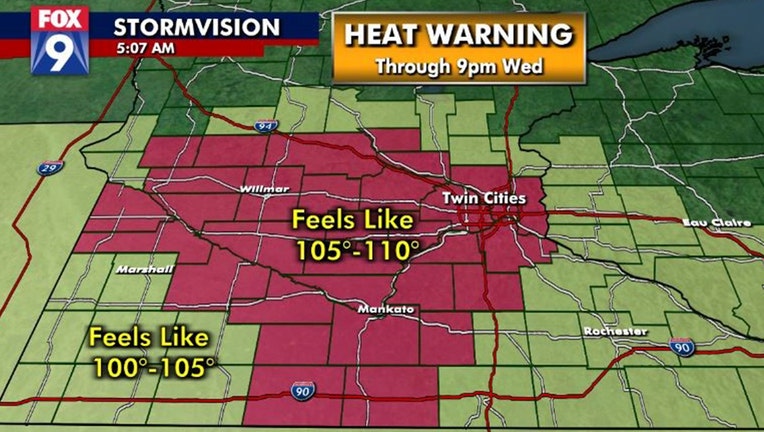 (FOX 9) - An Excessive Heat Warning has been issued for the greater Minneapolis-St. Paul metro and much of central and southern Minnesota through 9 p.m. Wednesday.
Expect very hot and humid conditions to quickly return after morning storms, with a peak heat index up to 110 degrees possible late in the day.
The combination of little overnight relief, along with temps approaching 100 degrees and dew points in the 70s by Wednesday afternoon, could lead to dangerous conditions for many Minnesotans, where it could feel like it's near 110 degrees.  Something to keep in mind is that the heat index, or sometimes called the "apparent" or "feels like" temperature, is calculated for areas in the shade; it is much higher in direct sun.
Officials recommend people take precautions when outdoors in the heat, including drinking plenty of fluids, staying out of the sun and checking in on the elderly or young. Residents are reminded to limit outdoor activity, especially midday when the sun is hottest. It's also important to drink more water than usual and don't wait until you're thirsty to drink more. 
Experts say when the weather is this humid, your body can't cool itself like it normally does because your sweat doesn't evaporate on your skin. So, they say to be extra alert for signs of heat exhaustion or heat stroke. For more information on signs and symptoms, click here.
"This is one of those conditions where an ounce of prevention is worth a pound of cure," said Dr. Jon Cole with Hennepin Healthcare. "So, staying out of the sun, getting out of the heat right way is really important even if you just start to feel hot."
Several Minnesota counties offer cooling centers for those in need, including Hennepin and Ramsey counties. A map of Hennepin County cooling centers can be found here.
For more information on where to cool off in Ramsey County, click here.
Get the FOX 9 Weather App to track summer weather live on your phone, with future radar, live streaming video of FOX 9 coverage and alerts and forecasts customized for your current location and favorite locations. Download it for Android or Apple.