Air Quality Alert issued in Minnesota due to wildfires
(FOX 9) - Smelling smoke? Well, you're likely not alone. The smoke that has been streaming in from Canada over the last couple of weeks has now made it to ground level in Minnesota. 
A stalling cold front has allowed mid and upper level smoke to pool in the atmosphere. With that newly stationary front draped across the state, smoke will drift down to ground level and give us a smoky haze, smoky smell and poor air quality at times over the next couple of days.
The Minnesota Pollution Control Agency issued an air quality alert for northern, central, and southeast Minnesota, effective Tuesday, July 20 through Thursday, July 22, at 6 a.m. The affected area includes Hibbing, International Falls, Bemidji, Roseau, East Grand Forks, Moorhead, Brainerd, St. Cloud, the Twin Cities, Rochester, Mankato, and the tribal areas of Leech Lake, Red Lake, Fond du Lac, Mille Lacs, Upper Sioux, and Prairie Island.
Those that are sensitive to poor air quality should stay indoors as much as possible over the next few days.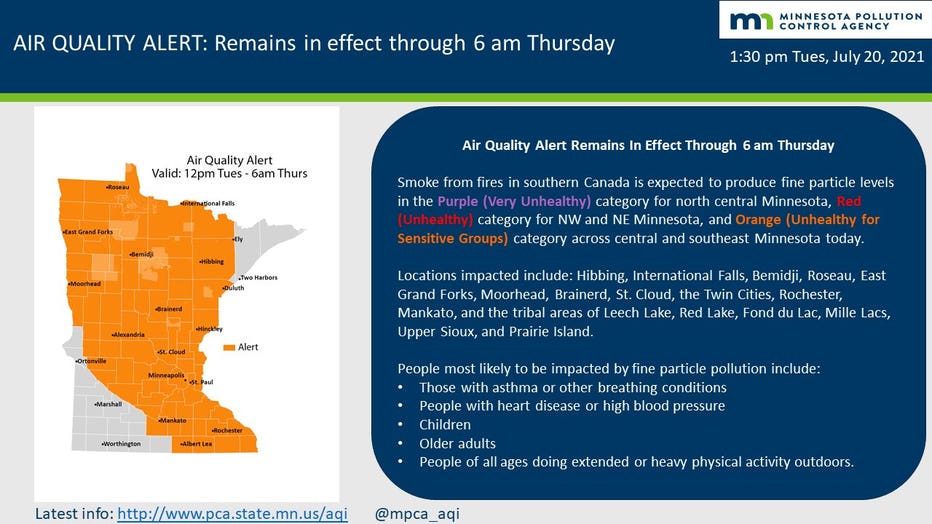 Get the FOX 9 Weather App to track summer weather live on your phone, with future radar, live streaming video of FOX 9 coverage and alerts and forecasts customized for your current location and favorite locations. Download it for Android or Apple.