100 degrees in Minneapolis-St. Paul is more uncommon than it seems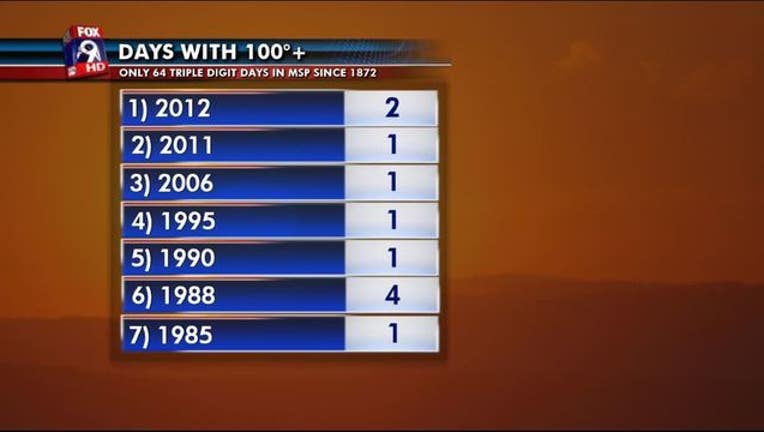 article
MINNEAPOLIS (KMSP) - For this being one of the coldest spots in the U.S. we sure do seem to talk a lot about triple digit heat in the summer.  While we can reach the milestone every so often, it may be far more uncommon than you might think.
While the heat index in the Twin Cities often reaches and exceeds 100 degrees every summer, the actual air temperature does not.  The heat index is the "feels like" temperature when you combine both the actual air temperature and the level of moisture in the atmosphere. The more moisture you have, the warmer and more uncomfortable it feels. 
So, for example, if the thermometer reads 95, but the dewpoint is in the tropical range of the mid 70s, then the heat index will likely be around 110.  So, it may FEEL like 110, but the thermometer doesn't actually reach that number… and that's where a lot of us may get confused.
Since 1872, the Twin Cities has recorded 64 separate days with a triple digit temperature, the highest of which came during the Dust Bowl era of 1936, when the thermometer hit 108.  But in our recent history, the century mark has been far more elusive. 
The metro has recorded a 100+ temperature just 19 times since 1950, and just 4 times since 2000, with two of those coming within 2 days of each other back in 2012.
Hitting the century mark on Saturday is a pretty big long shot for the metro, however we will likely be really close with good chances for the mercury to climb into the upper 90s.