Vikings-Chiefs: Will Taylor Swift be in Minneapolis?
MINNEAPOLIS (FOX 9) - After appearances at the two most recent Kansas City Chiefs games, the NFL seems enchanted to officially meet Taylor Swift. 
She was first spotted at the Kansas City Chiefs home game at Arrowhead Stadium after weeks of rumors regarding a budding romance between Chiefs tight end, Travis Kelce, and the pop superstar. Swift was seen with Kelce's mother, Donna, wearing Chiefs gear and cheering for the team despite being a lifelong Eagles fan.
Swift appeared last week at the Chiefs game against the Jets with an entourage of A-list stars including Ryan Reynolds, Blake Lively, Sophie Turner, and Antoni Porowski of Queer Eye.
NFL fans and Swifties are speculating about whether Swift will make an appearance at other games this season. With her Eras Tour resuming internationally on Nov. 9 in Buenos Aires, Argentina, there is a chance she will attend one of the next five Chiefs games, which includes a Vikings home game this Sunday.
Minneapolis Mayor Jacob Frey spoke to TMZ earlier this week about the possibility of the star returning to the city.
Frey says, "We know All Too Well the positive impact Taylor Swift has on the cities she visits — Minneapolis is no exception."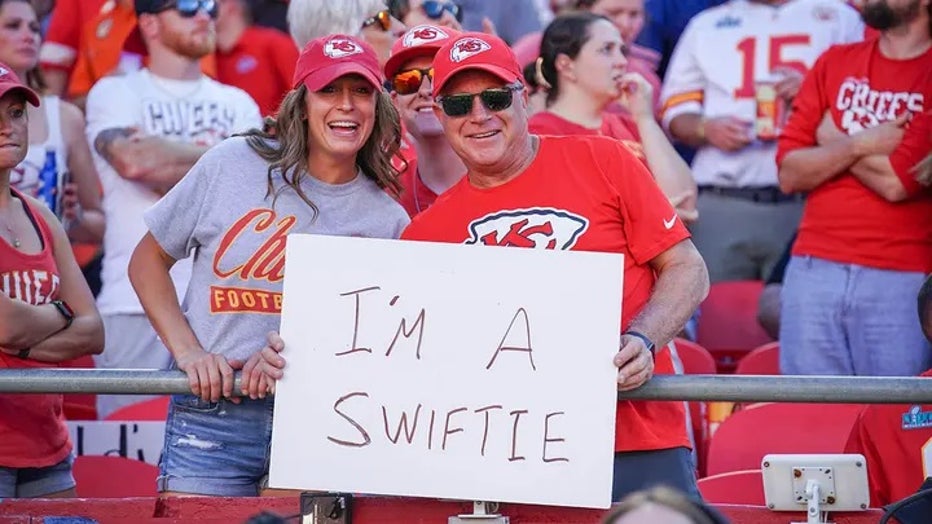 Kansas City Chiefs and Taylor Swift fans show their support against the Chicago Bears during the first half at GEHA Field at Arrowhead Stadium. (Denny Medley-USA TODAY Sports)
After two sold-out tour dates in Minneapolis earlier this year, the city is aware of what kind of impact Swift has on the local economy. Her impact has also been felt by the NFL with nearly 27 million people tuning in to last weekend's Chiefs-Jets game making it the most-watched Sunday show since the Super Bowl.
"If Taylor chooses to come back to Minneapolis [sometimes known as Swiftieapolis] this weekend, we'll be Ready For It," said Frey, according to TMZ. "It's possible she will have to console Travis Kelce after the Vikings beat the Chiefs, but there are plenty of great spots across town for them to go on a date and lift their spirits!"
As of Friday morning, resale tickets for this weekend's game are averaging $100 more than other upcoming games at U.S. Bank Stadium. 
It remains to be seen if this romance will be a quick fling or timeless, but many fans' wildest dreams will be crushed if she does not appear at upcoming games.