Timberwolves fight: Rudy Gobert punches Kyle Anderson; Jaden McDaniels punches wall
MINNEAPOLIS (FOX 9) - As the Minnesota Timberwolves were fighting for position for the play-in games on Sunday, the team was also fighting each other on the sidelines.
During a timeout in the second quarter, Rudy Gobert was seen throwing a punch at forward Kyle Anderson in the Wolves huddle. After throwing the punch, Taurean Prince rushed at Gobert, pushing him away, while other teammates held back Anderson.
Video of the altercation shows Anderson arguing with Gobert from across the huddle before Gobert moved in to strike Anderson on the chest. Anderson remained in the game after the incident while Gobert quickly went back to the locker room.
He has since been ruled out for the rest of the game, the team says.
Jaden McDaniels was also ruled out for the remainder of the game with a hand injury. He was spotted on camera punching the wall of the tunnel to the locker room.
According to Shams Charania, McDaniels suffered a fractured hand.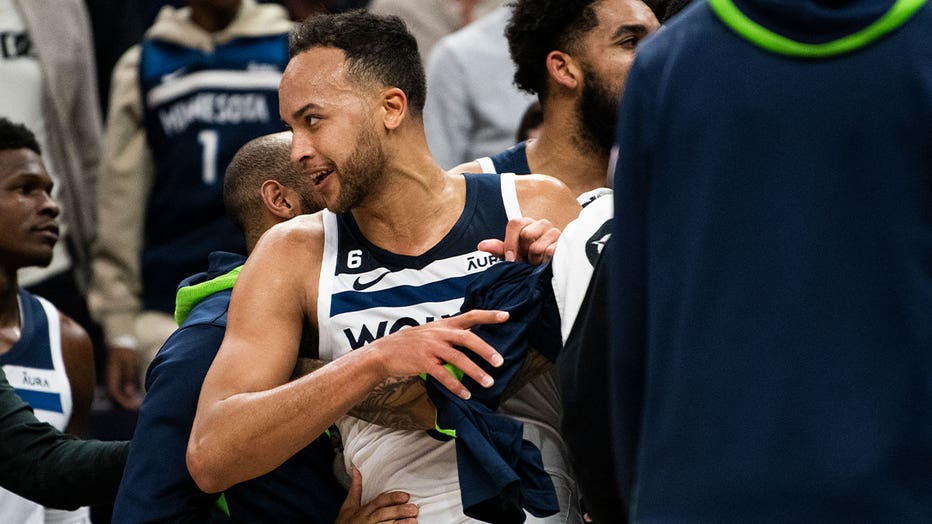 Kyle Anderson #5 of the Minnesota Timberwolves is held back by a teammate after an incident during a timeout in the second quarter of the game against the New Orleans Pelicans at Target Center on April 9, 2023 in Minneapolis, Minnesota. (Getty Images)
Despite the losses, the Wolves were able to roar back in the second half and beat the Pelicans, earning them the 8th seed headed into the play-in game. Though, they may be playing their play-in matchup versus the Lakers without both Gobert and McDaniels.
"It's very frustrating, a couple of blown assignments, a lot on the line tonight," said coach Chris Finch after the game. "We're not proud of that behavior by anybody. I really haven't dug too far into the root cause of it. But guys are just frustrated. We weren't playing well, we weren't sharing the ball. we were getting beat in all the little areas."
"I think the gravity of the game made it feel like we were in panic mode," Finch added. "It's certainly not something that we condone. Veterans can get upset too. I don't want to be too hard on him. But obviously, it's not something we are going to be able to tolerate here. I'm sure he's already remorseful."
Finch says Gobert's availably for the play-in and the postseason will be determined in the coming days with input from team president Tim Connelly.
Finch wasn't able to comment on McDaniels' status after his injury.
Timberwolves will tip off Tuesday at 9 p.m. in Los Angeles.