Short-handed Timberwolves lose at Atlanta, 108-97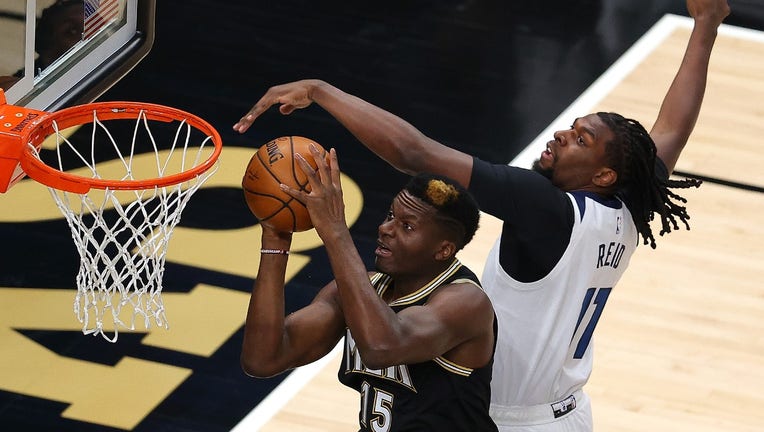 article
MINNEAPOLIS - A whirlwind of about 72 hours for the Minnesota Timberwolves came to an end Monday with a 108-97 loss to the Atlanta Hawks on a day dedicated to Martin Luther King Jr.
The Timberwolves learned last Thursday they would be without Ricky Rubio and Juancho Hernangomez due to COVID-19 issues. They then had to postpone their Friday night game against the Memphis Grizzlies as they didn't have at least eight players available, and Karl-Anthony Towns announced he tested positive for COVID-19 and entered isolation.
The Wolves flew into Atlanta late Sunday night and had their first round of COVID-19 testing done. They had another round of testing done between 7 and 8 a.m. Monday to get cleared to play before they could get into a pregame routine.
"I think the guys have handled it better than a lot of people would. They haven't complained," Wolves coach Ryan Saunders said after the loss. "That's a quick turnaround in a lot of ways. I think our guys have handled it well. They're doing everything they can."
The players said after they won't use it as an excuse. They're now 1-7 without Towns in the lineup and have lost nine of their last 10 games after a 2-0 strart.
"It is what it is. As players, we've got to perform no matter what. Everybody in the league is adjusting," Wolves guard Malik Beasley said. "We don't have any excuses for that, we've got to be better. The testing everybody has to do, so we can't use that as an excuse."
The Wolves shot just 40 percent from the field, and 37.8 percent from the perimeter in Monday's loss. Minnesota couldn't take advantage of 26 Hawks' turnovers, and the Timberwolves were out-rebounded 49-37 in the loss.
D'Angelo Russell led Minnesota with 31 points on 11-of-22 shooting, including 6-of-13 from the perimeter. He added seven assists and four steals. Malik Beasley added 15 points, but shot 5-of-17 from the field. Anthony Edwards finished with 12 points in 30 minutes, shooting 5-of-16 from the field.
Despite the loss, Edwards considered it a blessing to return to his native Georgia and play on Martin Luther King Day. The country is trying to unite after George Floyd's death in May, and will try to transition this week as Joe Biden is expected to be inaugurated as the next President on Wednesday. Edwards had family in attendance, but couldn't see them after due to COVID-19 reasons.
"For us to be playing on this day, it's special for all of us. Especially what's going on in the world today, still going on, it's a blessing," Edwards said.
Without Towns and Hernangomez, Jarred Vanderbilt scored eight points in 29 minutes. Naz Reid had nine points in 28 minutes.
De'Andre Hunter led the Hawks with 25 points. Clint Capela added 23 points, 15 rebounds, three blocks, two assists and two steals. Atlanta came into the game having lost six of its last seven.
The Wolves are scheduled to host the Orlando Magic Wednesday night. They won't have Towns or Hernangomez, and Rubio's status is not known. It's been a trying three days, and a tough 10 games without much success on the court.
"It's just about keep working and stay together, we don't have a group that's split or anything. Games are coming quick in this league, so we've got to pick ourselves up and get there Wednesday," Saunders said.