Pitino's son goes viral for bathroom break at Purdue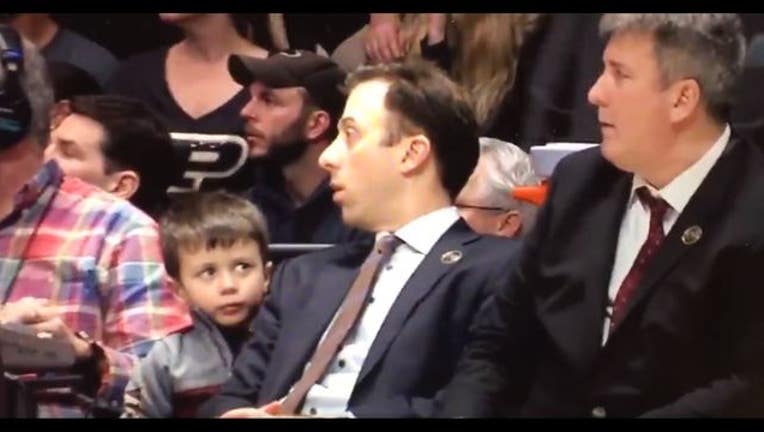 MINNEAPOLIS (FOX 9) - Richard Pitino grew up a coach's son.
He knew the grind of an NBA and college season long before he took over the University of Minnesota basketball program nearly six years ago. As a coach, it's his job to prepare for any situation in a game, any scenario that could play out.
But what can be easy to forget for the full-time coach is that, first and foremost, he's a full-time father of three kids.
There was no way for Pitino to be prepared for what happened Sunday as the Gophers were at Purdue, trying to pull off an upset with a 13-point second half lead.
Pitino's only son, 4-year-old Jack, approached him on the bench during the game. What did he say to his father? "I need to go to the bathroom."
"I tried to lecture him over and over again, 'You can't go on the court and you can't bother daddy when he's coaching.' And he only bothered me twice. It was coming out of a timeout, and it's amazing how everybody catches everything. Remarkably the game is going on and somebody is filming it so good catch by whoever that was," Pitino said.
Earlier in the game, Jack approached his father the first time. Richard was certain that time was for a bathroom break.
Nope. Instead, he asked, "Are you winning?"
"I said 'Yeah we are winning actually, good question,'" Pitino said.
On cue the second time, Jack asks his father to go to the bathroom. Pitino immediately looks over his left shoulder, finds a Gophers team manager and flags him down to get Jack his bathroom break. Pitino then immediately shifts his focus back to the court, where the live game is transpiring.
"Fortunately I think I covered all the bases of not upsetting our fan base by ignoring the game, and then pulling at the heartstrings of people and being perceived as a good father because as well all know, we have moments where we don't look like great parents," Pitino said laughing.
Unfortunately for Pitino and the Gophers, they couldn't hold their second half lead and lost to the Boilermakers, 73-63. The good news for Jack Pitino? He didn't see it. He was sleeping the last three minutes of regulation. Asleep in Mackey Arena, one of the loudest arenas in the Big Ten and college basketball.
So will the experience deter Richard Pitino from taking his son on future trips with the Gophers? From the sounds of it, absolutely not.
"I wanted to do a trip with him because he's starting to love basketball and my wife, when you have young kids, you try to be a good dad and good husband and get the kids out of the house," Pitino said. "Normally you go to a movie, but with the game time I brought him there. Overall he was the MVP of the game because he was actually very well behaved."