'Out-matched & out-coached': Gophers lose 37-3 at Ohio State, fall to 5-6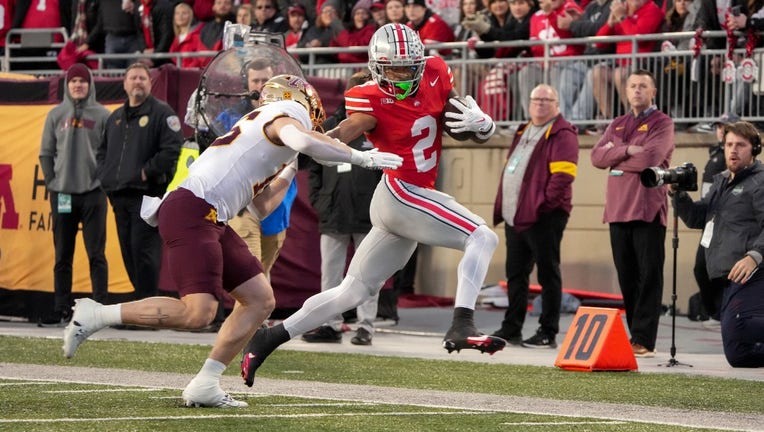 article
MINNEAPOLIS (FOX 9) - When you play not to lose, it sets you up for failure. When you play to win and still lose, at least you tried.
P.J. Fleck's philosophical approach to football came to the forefront during the first half of the University of Minnesota football team's 37-3 loss at Ohio State Saturday. On two drives, the Gophers faced third downs in Ohio State territory. Neither play got a first down, and Fleck opted to punt both times instead of go for it on 4th-and-5.
Call it conservative, call it playing not to lose. Call it whatever you want, it's an approach that's not going to work on the road against the No. 2-ranked team in the country. Fleck defended his decisions after the loss.
"Here's what goes through your mind. 4th-and- 2, 4th-and-1, I'm all in on that. 4th-and-5, why not pin them down? You make them go 90-some yards, they could screw up," Fleck said. "You don't get it, they go down and score and the game is over. My job is to manage the game to always keep my team in the game. 4th-and-5, nope."
The Gophers trailed the Buckeyes 13-0 at half before the game unraveled. TreVeyon Henderson took the first play of the third quarter 75 yards for a touchdown after Jack Henderson missed a tackle. Athan Kaliakmanis then lost a fumble on a sack, and Kyle McCord hit Marvin Harrison Jr. for a 6-yard touchdown. Two scores in 67 seconds, and Minnesota trailed 27-0.
"We were out-matched and out-coached. When you're playing the No. 2 team in the country who is one of the deepest teams in the country, that's what happens," Fleck said. "We were in the game pretty much until that huge run. That's what happens when you misfit, young guy is going to learn from that."
"They came out and they hit us in the mouth," defensive lineman Danny Striggow said.
The Gophers are below .500 for the first time this season at 5-6, are 3-5 in the Big Ten, have lost three straight and need a win over Wisconsin next Saturday to earn bowl eligibility. Minnesota has not finished with a losing record under Fleck since his first season, in 2017. The only thing they avoided was getting shut out, as Dragan Kesich made a 54-yard field goal with 6:43 to play, and the Gophers down 37-0.
The Gophers' offense didn't do much of anything against the Buckeyes' stout defense. They had just 159 total yards, 10 first downs and were 3-of-12 on third down. They ran just 48 plays. Kaliakmanis was 11-of-19 for 89 yards and an interception.
The Buckeyes played like one of the best teams in the country, and made sure they'd be 11-0 heading into a showdown with Michigan next Saturday. Henderson had 15 carries for 146 yards and two touchdowns. McCord was 20-of-30 for 212 yards and two scores. The Buckeyes had 434 total yards, ran for 212, had 23 first downs and were 10-of-16 on third down. The Gophers were without starting linebackers Cody Lindenberg and Maverick Baranowski.
To complicate matters, the Gophers lost running back Zach Evans on his second carry of the day for the rest of the game due to an injury. Safety Darius Green also left injured and did not return.
The Gophers knew they would have to play a perfect game and get some help to stay with either Michigan or Ohio State this season. Neither happened, as they were out-scored by a combined 89-13. The Buckeyes pulled their starters by the end of the third quarter.
Minnesota now needs a win over Wisconsin to keep Paul Bunyan's Axe for the third straight year, finish 6-6 and earn a bowl game.