Minnesota Aurora: How to watch Aurora vs. Rochester FC on May 24 on FOX 9+
EAGAN, Minn. (FOX 9) - The Minnesota Aurora FC opens its highly anticipated season at home on Wednesday with a game you can watch on FOX 9+ and streaming live on FOX9.com. 
The Aurora will host Rochester FC, with kickoff at 7 p.m. at TCO Stadium in Eagan. You can watch the game for free, over the air on FOX 9+ (over the air 9.2, Dish/DirecTV 29, Comcast 10/807, Mediacom 10/803, Spectrum 10) and streaming in the player above, on FOX9.com, the FOX 9 app, and FOX 9's YouTube channel.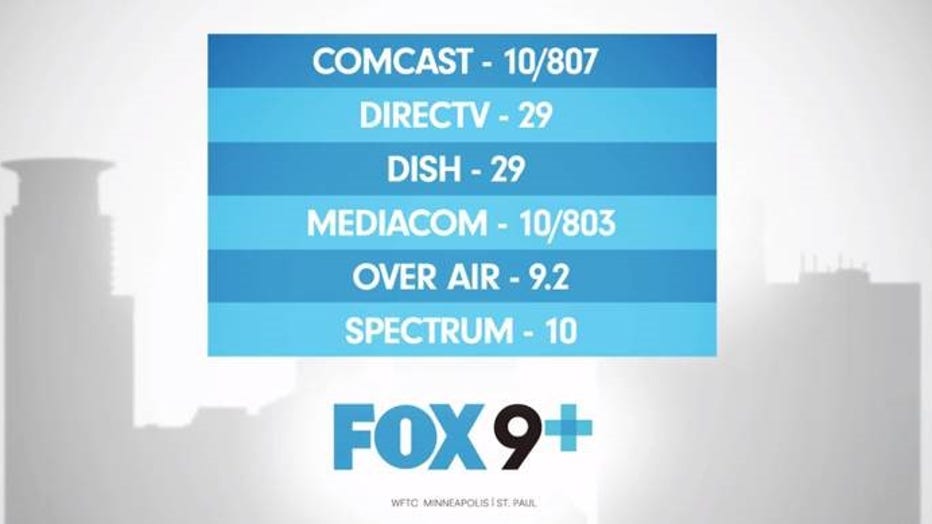 How to watch FOX 9+. (FOX 9)
All Minnesota Aurora home games will be on FOX 9+ in 2023, with the first match on Wednesday. Here's the Aurora's home broadcast schedule: 
Wednesday, May 24, 7 p.m. vs Rochester FC
Wednesday, May 31, 7 p.m. vs Sporting Racine
Wednesday, June 7, 7 p.m. vs Chicago Dutch Lions
Wednesday, June 14, 7 p.m. vs Green Bay Glory
Saturday, June 17, 7 p.m. vs Bavarian United
Saturday, July 1, 4 p.m. vs Chicago City SC
Minnesota Aurora has 17 of its 28 players back from last season's 13-1 campaign and run to the championship game (the Aurora's only loss was a 2-1 loss in extra time with the USL-W title on the line). That's raised the floor of what this program can be in its second season.
After more than two weeks of training, things get real Wednesday night.
"I'm really excited. It feels like it has been 300 days since I've coached a game here in TCO Stadium. Just the whole group is really excited to show the community what we've been working on since we've been together here in May," coach Nicole Lukic said.
Minnesota Aurora FC out-scored opponents 38-11 in 15 games last year and had six clean sheets. Lukic said during the preseason they've preached "The Aurora Way," which involves scoring a lot of goals. They got their first chance to play another team over the weekend, having two scrimmages.
"It was great to be able to test ourselves against somebody else. I think our players are really looking forward just to playing a different opponent besides themselves," Lukic said. "It was great to see what our strengths are right now and some areas we still need to focus on."
If last year is any indication, it should be a festive atmosphere Wednesday night as Minnesota Aurora FC plays the first of six home matches at TCO Stadium.
"The community means everything to us. We can't be here without the community supporting us. It really makes all the hard work that we've been putting in worth it," Stone said.