Josh Dobbs leads Vikings to 31-28 win over Falcons after Jaren Hall exits injured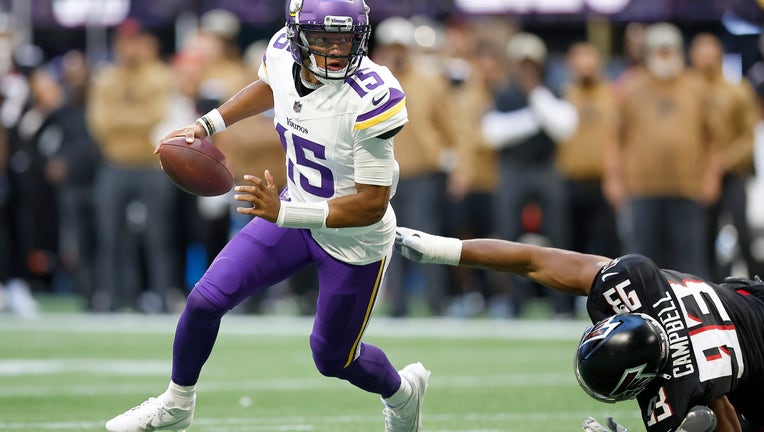 article
MINNEAPOLIS (FOX 9) - Josh Dobbs got to Minnesota five days ago. Little did he know Sunday the Vikings would need the seventh-year veteran to get one of their biggest wins of the season.
Dobbs dove into the playbook, but didn't have a single practice with the first-team offense all week. He threw a few passes to Brandon Powell pregame, and the two connected later for the biggest play of the day. Sunday was supposed to be about rookie Jaren Hall's first NFL start at the Atlanta Falcons, but he went down in the first quarter with a concussion, taking a hard hit on a scramble trying to score, getting just short of the goal line.
Enter Dobbs. Against all odds, all he did was account for 224 yards and three touchdowns in a 31-28 comeback win over the Falcons at Mercedes-Benz Stadium. Dobbs led the Vikings on a 75-yard, game-winning touchdown drive, capped by a 5-yard pass to a cramping Powell with 22 seconds to play. It's the most points the Vikings have scored in a game this season.
Dobbs introduced himself in his post game media session, though he needed no introduction.
"What's up y'all? I'm Josh Dobbs, honored to be in Minnesota and introduce myself to everyone. Great team effort, team win. I'm excited to be here in Minnesota and excited to see what the future holds for us," Dobbs said.
The Vikings were without Christian Darrisaw. Kirk Cousins is out for the season. Justin Jefferson is still out. Cam Akers likely suffered an Achilles injury in the second half. T.J. Hockenson played the fourth quarter through pain. The defense kept the Vikings in the game, until the dam broke in the fourth quarter and Tyler Allgeier scored from five yards out to give the Falcons a 28-24 lead with 2:08 to play.
Amidst the adversity, Dobbs to the rescue. The Vikings sent the Cardinals a sixth-round pick on Tuesday with Cousins out, and Nick Mullens on IR. Next man up. The Vikings are 5-4, have won four straight and five of their last six after an 0-3 start.
"I don't know if I've been a part of one like that. What's inside of each and every guy in that locker room and the feelings they have towards one another, these are the days that cement why you believe what you believe as a coach," Vikings coach Kevin O'Connell said after the win. "I'll remember this one for a really long time. Everybody in that locker room got a game ball."
Despite knowing a fraction of the playbook and not even knowing most of his teammates' names yet, Dobbs led the Vikings to an improbable victory. He was ready when Hall went down in the first quarter.
"I've been in similar situations. First it was 'Jaren get up, I hope he's OK.' Then it was if you're playing, the team still expects you to go out and win and play good football," Dobbs said. "In this league, there's never an excuse for your circumstance. When they said it was your ball, my job was just go out there and play good football. The same football I know I can do, I've been playing all year."
Dobbs got eight starts with the Cardinals this season, throwing for 1,569 yards, eight touchdowns and five interceptions. Sunday got off to a rocky start, taking a safety and losing a pair of fumbles.
His first touchdown, a 2-yard pass to Alexander Mattison, got the Vikings within 11-10 at the half. His second touchdown came after Taylor Heinicke hit Jonnu Smith on a screen for a 60-yard touchdown, giving the Falcons a 21-13 lead in the third quarter.
Dobbs answered, using his legs for an 18-yard touchdown run. He then hit Trishton Jackson for a two-point conversion, tying the game 21-21 with 2:20 left in the third.
Dobbs spent most of his week before Sunday in a playbook. He told O'Connell before the game, "Anything on this call sheet that we installed this week, I got it. I can run it." O'Connell talked with Dobbs Tuesday night, as he was game planning for Hall to get his first NFL start.
"I told Josh when he got here, if you go in the game it's going to be you and your teammates and I'll be with you every step of the way," O'Connell said. "I would not discount Josh Dobbs' ability to come in here and do something that I don't think many quarterbacks in our league could do. I hope people understand what Josh Dobbs was able to accomplish was something very special."
With 2:08 to play, two timeouts and the two-minute warning, it was on Dobbs to send the Vikings home from Atlanta with a victory. He hit Jordan Addison for 24 yards, then scrambled for 22 yards to the Atlanta 12-yard line. He hit Hockenson for six yards, then hit Powell for the game-winning score.
"Out there, I know me. I was paying attention to the offensive line, they kept saying let's finish. That kept pushing me, both legs was cramped up. I was like man I'm trying to finish this game so we could get this win," Powell said.
Dobbs described what it was like having O'Connell in his headset just days after joining the team. Imagine trying to learn a new language, calls, checks and reads in four days.
"It's like if you were taking AP Spanish all year, you showed up on Wednesday and someone told you you have an AP French exam on Sunday. That's what was going on out there," Dobbs said.
Sounds like something an aerospace engineering graduate from Tennessee would say.
It would've been very easy for the Vikings to cave after the Falcons pounded them on the ground for their fourth quarter go-ahead touchdown. Dobbs gave them a reason not to, partially inspired by his offensive line.
"They looked at me and said, 'What an opportunity to go out be great.' We were stepping up to the circumstances we were given," Dobbs said.
Dobbs finished with 158 passing yards and two touchdowns. He led the Vikings with 66 yards rushing, and a score. The defense made just enough plays, and got turnovers from Josh Metellus and Byron Murphy Jr. They're on a four-game win streak since a 1-4 start.
"It would've been understandable to allow the circumstances to overwhelm us. Not this team, not this collection of guys. That's what I'm most proud of," O'Connell said.
Dobbs' task next week? Get on a first-name basis with his teammates.