Gophers, Bob Motzko embrace trip to Florida for NCAA Frozen 4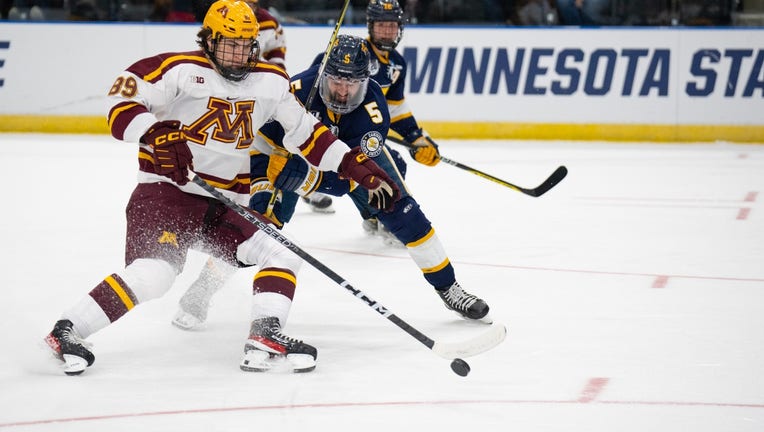 article
MINNEAPOLIS (FOX 9) - Bob Motzko pretty much sums up all of Minnesota when it comes to talking about the Gophers' men's hockey team heading to Florida next week to play in the NCAA Frozen Four.
"Fact is we've had such a horrible winter here in Minnesota, I think there are going to be a whole lot of people heading south to get to Tampa. It's going to be crazy," Motzko told reporters via Zoom on Tuesday.
He's not wrong. The Gophers' fanbase travels well, especially when they're winning. Maroon and Gold swag filled Scheels Arena in Fargo last weekend to the tune of an attendance record as Minnesota beat Canisius 9-2 and St. Cloud State 4-1 to advance to the Frozen Four.
Gophers' fans will be more than happy to head south next week to watch Minnesota potentially play for a national championship. The team's Twitter account even went so far as to post the hour-by-hour temperature in Tampa on Monday, in the mid-80s.
They got a scare from Canisius last Thursday before pulling way, then handled the Huskies. It'll be Motzko's third trip to the Frozen Four, and second straight with the Gophers.
"There's no question that we're an excited group. How hard it is to get through these things, I've lived this for so long and you've got to be lucky, be good and things go your way," Motzko said. "You can't take it for granted."
The next task is to get to the weekend in Tampa. Last year, the Gophers were sent home early in a 5-1 loss to Minnesota State-Mankato. In 2013, Motzko and the Huskies got to the Frozen Four in Pittsburgh and were sent home after a 4-1 loss to Quinnipiac.
The Gophers (28-9-1) face Boston University (29-10) in the early game Thursday. The winner faces the Michigan/Quinnipiac winner Saturday for the national championship. Minnesota hasn't brought home a championship since 2003.
"I don't like losing the first game, I can tell you that. There's nothing worse than having to get on a plane and leave. Thank goodness we punched our ticket to get back again because we have guys that have been there," Motzko said. "You have to embrace it, but you've got to keep your focus on what's in front of you."
To get there, the Gophers will need their best players to be their stars on the biggest stage. That includes First Team All-Big Ten pick Logan Cooley. The freshman leads the Gophers with 57 points, including 37 assists, in 20 games.
He had three assists against Canisius, and had a goal and an assist against St. Cloud State for a five-point weekend.
"He just continually gets better, he continually wants the puck in big moments and he's not afraid of any moment. With all that, he doesn't even shave yet. That's what's crazy, he's just a young fireball that is so fun," Motzko said.