Gophers stun Rutgers 75-74 on Jamison Battle buzzer-beater, ending 12-game skid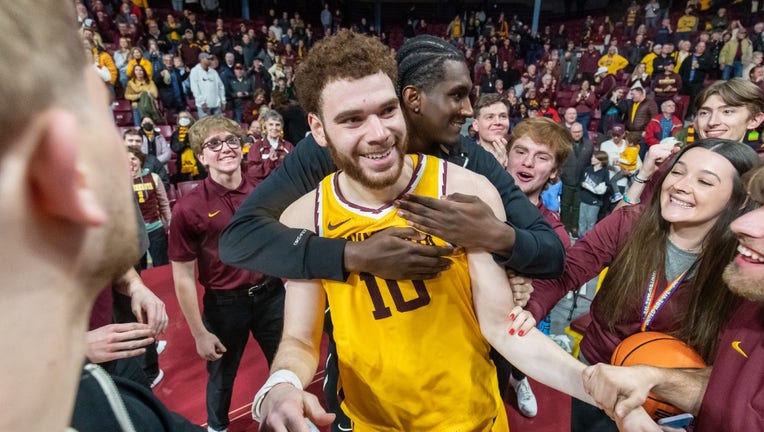 article
MINNEAPOLIS (FOX 9) - It's been a long and frustrating winter at Williams Arena, but the University of Minnesota men's basketball team finally had something to smile about Thursday night.
The few thousand fans that stuck around for the end saw Jamison Battle drill a 3-pointer as time expired for a 75-74 win over Rutgers. After a more than 10-minute review, the shot was deemed good and the Gophers could celebrate. Battle finished the night with 20 points on 7-of-15 shooting, including 6-of-13 from the perimeter.
The Gophers were down 10 with 75 seconds to play. Battle hit three of his six 3-pointers on the night in the final 43 seconds.
"There really is no feeling. That's something you dream about. I knew it was good but as time progressed and they kept looking at it, that's when you get a little nervous," Battle said after the win. "I knew it was good off my hand, I can't describe the feeling it was just waiting. I'm glad it counted."
A 12-game losing streak is over, the Gophers are 8-20 on the season and 2-16 in Big Ten play. It was also their first home conference win of the season. It was their first win in 48 days, and their first conference home win since Feb. 19, 2021.
Minnesota hosts Wisconsin on Sunday, then travels to the Big Ten Tournament before Ben Johnson's second season comes to a close.
"It's good to see the guys finally be rewarded. Last game at Nebraska, just talked about if you compete and you have a will to win, that anything is possible. It's kind of eerie that literally a game later, the same scenario," Johnson said. "I think it just shows our guys' will to compete and to fight and never give up. Just really excited those guys got rewarded."
Johnson was as dumbfounded as anyone at Williams Arena when asked why the review on Battle's shot took as long as it did. The officials took multiple looks to see if Ta'Lon Cooper touched the ball as it rolled down the court before eventually Battle got the shot. The clock appeared to start at the correct time.
"I have no idea. Honestly I don't even care right now. I don't know, it counted," Johnson said.
The Gophers needed something good to happen, and it finally did. Late last week, 5-star center Dennis Evans filed paperwork to ask for his release from the Gophers ahead of next season, and it has been granted. Thursday before the Gophers took on the Scarlet Knights, Lindsay Whalen stepped down as the women's head coach after finishing her fifth season 11-19.
Johnson said Whalen was one of the first to text him after Thursday's win.
Johnson is about to finish year two, and the hope is better days are ahead for the Gophers. The other bright spot Thursday was freshman Pharrel Payne. He had 15 points and 10 rebounds, including a thunderous dunk on an alley-oop from Dawson Garcia near midcourt.
Garcia added 19 points and seven rebounds for the Gophers.
Cam Spencer, who Minnesota wanted last offseason via the NCAA transfer portal, had 21 points on 7-of-11 shooting. Cliff Omoruyi couldn't be stopped inside, with 23 points and 11 rebounds.
The Gophers got the win despite committing 12 turnovers, shooting 12-of-19 at the free-throw line and getting out-rebounded 38-29. The Scarlet Knights turned 15 offensive rebounds into 17 second chance points.
Jaden Henley got the Gophers within 73-72, tipping in Garcia's missed 3-pointer. Rutgers made 1-of-2 at the foul line, setting up the heroics for Battle. He faked a shot, took a dribble and had a perfect swish for the game-winner. March Madness at its finest. In an otherwise lost season, Johnson said one of his pillars is playing hard no matter the circumstance.
"All we know is you've just got to show up. They know that's what we're about, win, lose or draw. We're about the process and we're about showing up every single day. Adversity, if it makes you fall down and you can't get back up, I've got the wrong guys," Johnson said. "Because this program is only going to go in one direction, and you only do that with certain type of people. We're going to make sure we got those certain type of people in that locker room. That will never change."
The Gophers close out the regular season against the Badgers on Sunday, Senior Day at Williams Arena.