Brian Flores: What the Vikings are getting in their new defensive coordinator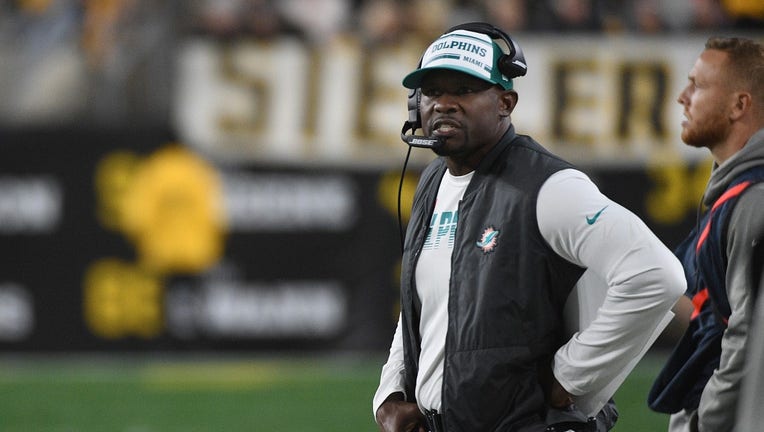 article
MINNEAPOLIS (FOX 9) - The Minnesota Vikings knew something had to change with their defense. On Monday, they officially found a new defensive coordinator.
Ed Donatell was fired after one season, as the Vikings' new 3-4 look either didn't translate on the field, or didn't feature the right personnel, or both. The Vikings finished 31st in the NFL in total defense, and 30th in points allowed.
Brian Flores was named the new leader of the defense earlier this week. He's one of the most respected defensive coaches in the NFL, and should bring the Vikings immediate respectability. So what are the Vikings getting in Flores? Here's a look.
PROVEN PEDIGREE
Flores is 41 years old, but has been an NFL coach since 2008 and a defensive coach since 2011. He spent 11 seasons on a staff under Bill Belichick, and won three Super Bowls with the Patriots as a position coach. That includes in 2018, his first run as a defensive play-caller. That defense improved from 17th to seventh in passer rating. In his first season as linebackers' coach with the Patriots, they led the NFL in scoring defense at 15.6 points per game.
The guy can flat out coach.
 IF IT LASTS 1 YEAR, THAT'S PROBABLY A GOOD THING
There's a very real chance Brian Flores might only be in Minnesota one season. That might be a good thing, as he's been a head coaching candidate two consecutive off-seasons. He interviewed for the Arizona Cardinals' opening, and was a candidate to be the defensive coordinator in Denver. Last year, he sued the NFL after being in line for the New York Giants' job before it went to Brian Daboll, referencing the Rooney Rule.
Flores is a coveted name and might be interviewing again this time next year if the 2023 defense makes improvements.
HOW DOES FLORES HIRE IMPACT PERSONNEL?
To be blunt, the Vikings' defense in 2023 was old and slow at key spots. They gave up at least 400 total yards in five straight games, a franchise record. They allowed Daniel Jones to have a career day and make NFL history in a playoff win. Under Flores, defenses are known to be extremely physical, and blitz a lot.
They'll need to get younger, faster and healthier. Flores will have decisions to make on veterans like Danielle Hunter, Eric Kendricks, Dalvin Tomlinson, Jordan Hicks, Patrick Peterson and Harrison Smith. He'll also need to see how Lewis Cine, Akayleb Evans, Andrew Booth Jr. and Cam Dantzler look when they're healthy.
IT WAS TIME TO GO OUTSIDE THE BOX
Mike Zimmer had his son as a co-defensive coordinator, but Mike was calling the plays. Kevin O'Connell had Donatell in charge of installing a 3-4 scheme, and had Mike Pettine as a defensive mind for an associate head coach. Flores was a head coach for three seasons with the Miami Dolphins, and is a proven defensive mind. Still young at 41, it was time for the Vikings to find a younger coach who didn't sacrifice quality. Flores appears to check all the boxes.
WHAT WILL THE NEW DEFENSE LOOK LIKE?
The short answer is we have no idea. We won't know until decisions are made on free agents, veterans on high-dollar contracts and what we see from rookies who didn't see the field much in 2022. Again, they need to get faster. They'll blitz more, largely because Donatell rarely did, and they'll get to the quarterback more. The first chance we'll get a look at it is at offseason workouts, after the NFL Draft.