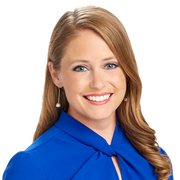 Jennifer McDermed
Meteorologist
Jennifer McDermed was born and raised in Atchison, Kansas. Her passion for weather, specifically severe weather, grew at a very young age. You know in kindergarten how you're supposed to draw what you want to be when you grow up - a firefighter, a teacher, a policeman? Jennifer drew a tornado with cows flying into the tornado.
"I've always wanted to be a meteorologist and nothing else," she says.
Jennifer received her Bachelor of Science degree in Meteorology from St. Louis University in May 2013. Shortly after graduation Jennifer started her career with a short stint at KQTV in St. Joseph, Missouri and by November 2013 she joined the WHO-TV 13 weather team in Des Moines, Iowa and in December 2015 she joined KMBC 9 in Kansas City.
Throughout the past few years McDermed has tracked several tornadoes in Texas, Oklahoma, and Kansas. The biggest tornado Jennifer tracked rated an EF-4 near Lyons, Kansas in 2012. And now that she's in Minnesota, she's able to forecast for severe weather AND blizzards!
Jennifer doesn't only have a passion for all of types of weather, but also being active. From pick up volleyball and basketball games to hiking and kayaking and triathlons - she loves it. In fall of 2018 she found the perfect partner for her outdoor adventures – a Newfoundland dog, Millie.
Jennifer joined FOX 9 in January 2018. You can find her forecasts during the weekday and weekend evenings. She loves meeting people and creating new adventures!
The latest from Jennifer McDermed