Ukrainians in Minneapolis mark one year since Russia's invasion with grief and defiance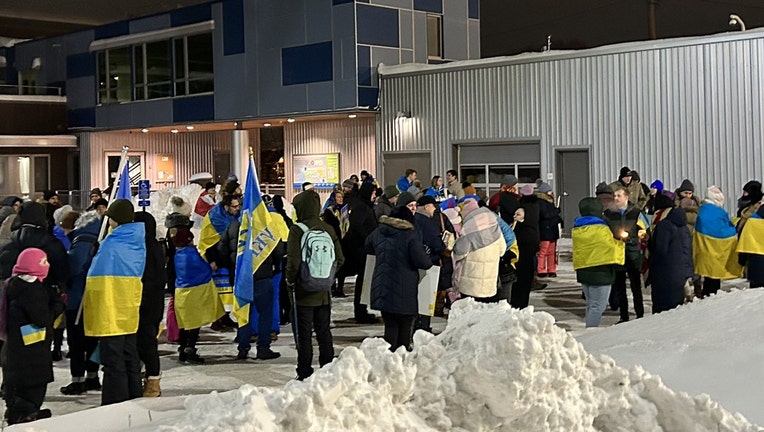 article
MINNEAPOLIS (FOX 9) - The Lowry Bridge and downtown Minneapolis were lit up with the blue and gold of the Ukrainian flag Friday night as supporters of the war-torn, yet resilient nation braved freezing temperatures to hold a candlelight vigil marking one year since the start of Russia's full-scale invasion. 
"It doesn't matter whether it's hot or cold. What's right is right and what's wrong is wrong. We have to take a stand," Kevin Dwire told FOX 9's Corin Hoggard.
A couple of hundred supporters marched halfway up the bridge's pedestrian walkway at 7 p.m. and spent an hour there waving the flags and chanting for support for Ukraine and for Russia to end its invasion, with temperatures below 10 and wind chill around zero.
Ukrainian war: A fight for democracy and survival 
Mila Yakovlev, a Ukrainian-American from Kyiv who has lived in Minneapolis for 26 years, said thought it was important for Minnesotans to understand that for Ukrainians, the war is about much more than a struggle between nations. 
"It's fighting for freedom and democracy, for what we value so dearly in the United States and Western Europe and many other parts of the world. And Ukrainians are actually a fragile democracy. But man, it's they have a lot of strength, and they're fighting for it," she said while holding a candle on the bridge. 
Yakovlev added: "It's survival at this point. There's no Plan B; There's only one Plan A."
IN-DEPTH: Ukrainian soldiers come to Minnesota for prosthetics — and then return to the fight
Another Ukrainian-American at the march, Ophelia Karamushko, said she was from the Kharkiv region, parts of which were occupied by Russian forces after the invasion until the Ukrainian army drove them out in September. 
She said that during the occupation by Russian troops, her relatives told her they had to hide Ukrainian flags and other symbols, burring them in a yard, and they were afraid to speak the Ukrainian language in public.
"If you recognize yourself as Ukrainian, you basically risked torture and execution in general," she said
Source of Pride 
Vohdana Matlashewski, 14, wore a Ukrainian hockey jersey to the vigil. Her parents are Ukrainian, and she was proud to see several buildings in downtown Minneapolis lit up in blue and yellow. 
"It's the colors of freedom. And we should support our country. And I feel like I wear Ukrainian stuff to school all the time. And I'm proud of who I am, and I want to share who I am with everybody around me, she said. 
The mood was solemn as speakers addressed the crowd speaking of the sacrifices Ukrainian had made and the deaths of civilians, but with moments of defiance and celebration as people sang Ukrainian songs and held hands in the cold. 
Yakovlev said that while she hopes the war ends soon, she thinks there will be more vigils and marches ahead. 
"It's going to be a long fight. I have a feeling we all will have to sacrifice the comfort of our lives. Ukrainians are up front. They're really, truly fighting and losing their lives. But we are standing behind them. We need to be prepared that it's going to be a while, but we need to stay together," she said.