Ukraine's Volodymyr Zelenskyy pledges push for victory on anniversary of Russian invasion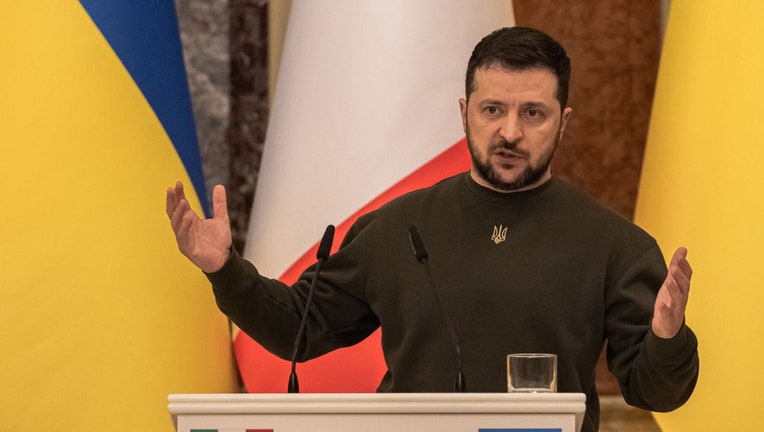 article
KYIV, Ukraine - Ukraine's president pledged to push for victory in 2023 as he and other Ukrainians on Friday marked the somber anniversary of the Russian invasion that he called "the longest day of our lives."
As morning broke on a day of commemorations and reflection, President Volodymyr Zelenskyy struck a tone of grim defiance and used the Feb. 24 anniversary to congratulate Ukrainians on their resilience in the face of Europe's biggest and deadliest war since World War II. He said they had proven themselves to be invincible in what he called "a year of pain, sorrow, faith and unity."
"We survived the first day of the full-scale war. We didn't know what tomorrow would bring, but we clearly understood that for each tomorrow, you need to fight. And we fought," he said in an early morning video address.
RELATED: Ukraine strike deaths rise to 40; Russia seen preparing long war
It was "the longest day of our lives. The hardest day of our modern history. We woke up early and haven't fallen asleep since," he said.
Ukrainians attended memorials, held vigils and other remembrances for their tens of thousands of dead — a toll growing all the time as fighting rages in eastern Ukraine in particular. 
Although Friday marked the anniversary of the full-scale invasion, combat between Russian-backed forces and Ukrainian troops has raged in the country's east since 2014. New video from there shot with a drone for The Associated Press showed how the town of Marinka has been razed, along with others.
RELATED: US says Russia has committed crimes against humanity in Ukraine
Lining up in the capital, Kyiv, to buy anniversary commemorative postage stamps, Tetiana Klimkova said that a year into the invasion, she's been unable to shake "the feeling that your heart is constantly falling, it is falling and hurting."
Still, "this day has become a symbol for me that we have survived for a whole year and will continue to live," she said. "On this day, our children and grandchildren will remember how strong Ukrainians are mentally, physically, and spiritually."
But peace is nowhere in sight. China called for a cease-fire — an idea previously rejected by Ukraine for fear it would allow Russia to regroup militarily after bruising battlefield setbacks.
A 12-point paper issued Friday by China's Foreign Ministry also urged the end of Western sanctions that are squeezing Russia's economy.
RELATED: Drone strikes hit Russia for 2nd straight day as Zelenskyy visits front line
That suggestion also looks like a non-starter, given that Western nations are working to further tighten the sanctions noose, not loosen it. The U.K. government imposed more sanctions Friday on firms supplying military equipment to Moscow and said it would bar exports to Russia of aircraft parts and other components.
Ukraine also is readying another military push to roll back Russian forces — with weaponry that has been pouring in from the West.
"Ukraine is entering a new period, with a new task — to win," Ukrainian Defense Minister Oleksiy Reznikov said on Facebook.
"It will not be easy. But we will manage," he said. "There is rage and a desire to avenge the fallen."
RELATED: Russia warns of 'consequences' if US missiles are sent to Ukraine
Mercifully, air raid alarms didn't sound overnight in Kyiv and the morning started quietly, allaying concerns that Russia might unleash another barrage of missiles to pile yet more sadness on Ukraine on the date of the anniversary.
Still, the government recommended that schools move classes online, and office employees were asked to work from home. And even as they rode Kyiv's subway to work, bought coffee and got busy, Ukrainians were unavoidably haunted by thoughts of loss and memories of a year ago when missiles struck, Russian invaded Ukraine's borders and a refugee exodus began. Back then, there were fears the country might fall within days or weeks.
Mykhailo Horbunov, a 68-year-old man trying to rebuild in Kyiv after having been forced to flee his Russian-occupied village in the south, said the invasion had been a watershed in his life. He lost his agricultural business, and Russian troops have been living in his house for six months. He described the war's impact on him as "a collapse."
RELATED: Ukraine's Volodymyr Zelenskyy named Time's 2022 Person of the Year
The day was also particularly poignant for the parents of children born exactly a year ago as bombs began killing and maiming.
"It's a tragedy for the whole country, for every Ukrainian," said Alina Mustafaieva, who gave birth to daughter Yeva as the first explosions echoed across Kharkiv, Ukraine's second-largest city.
"My family was lucky. We didn't lose anyone or anything. But many did, and we have to share this loss together," she said.
Tributes to Ukraine's resilience flowed from overseas. The Eiffel Tower in Paris was among monuments illuminated in Ukraine's colors — yellow and blue.
Zelenskyy got an early start to the day, firing off a tweet that promised: "We know that 2023 will be the year of our victory!"
He followed that up with his video address in which he pledged not to abandon Ukrainians living under Russian occupation.
Ukraine "has not forgotten about you, has not given up on you. One way or another, we will liberate all our lands," he said.
A year on, casualty figures are horrific on both sides, although Moscow and Kyiv are keeping precise numbers under wraps. Western estimates suggest hundreds of thousands of killed and wounded. 
The failure of the Russian military to fill its initial objective of capturing Kyiv severely dented its reputation as a fighting force. Still, it has unleashed an unrelenting barrage of firepower on Ukraine over the past year. Ukrainian armed forces put the tally at roughly 5,000 missile strikes, 3,500 airstrikes and 1,000 drone strikes.
Economic repercussions have rippled across the globe. Diplomatic repercussions, too. Western nations are supporting Ukraine militarily, financially and politically. But China, India and countries in the global south have proven ambivalent about Western arguments that Ukraine is the front line of a fight for freedom and democracy.
Joanna Kozlowska in London, and Sophiko Megrelidze in Tbilisi, Georgia, contributed to this report.