'Ukraine: War and Resistance' Minneapolis photo exhibit captures personal side of war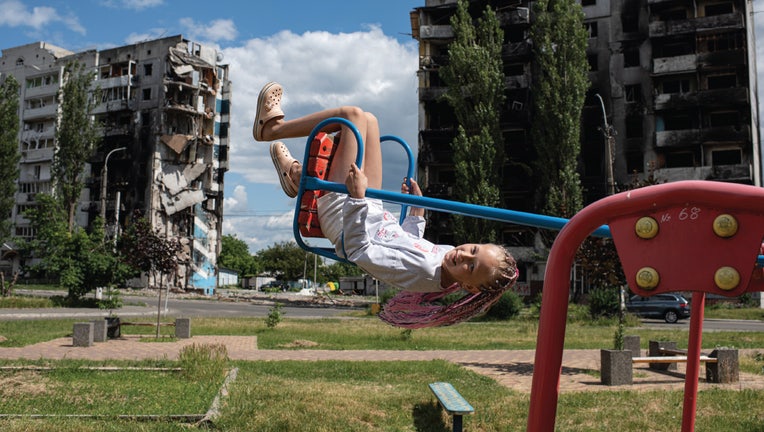 article
MINNEAPOLIS (FOX 9) - A girl with pink braids and Crocs smiles as her swing passes the halfway point and she is horizontal to the ground – momentarily oblivious to the bombed-out high-rise apartment buildings behind her.
A mother sits on a child's bed in a room covered with pink wallpaper. Her knees are pressed together in front of her and she holds her head with one hand. She looks at her young daughter with both concern and fear, but the girl does not meet her mother's gaze. She is looking down at the open duffel bag on the floor. Her mother is a soldier in the Ukrainian army about to go back to the front, and she is packing her daughter's things so she can stay with another family.
A row of wooden coffins leans against a fence in front of the remains of a burned-out house. Black soot stains travel upward from the window openings. The roof is gone, but the cement walls still stand. There are words in Ukrainian on the front gate, hastily painted in white. "Люди живуть/діти" — people and children live here.
These are three of the 41 large-scale photographs (25-by-20 inches) currently on display in "Ukraine: War and Resistance," an exhibit running through May 14 in the free Commons area of the Mill City Museum in Minneapolis. As media coverage and public interest in Russia's invasion of Ukraine wains, the collection of photos, taken by both American and Ukrainian Fulbright scholars, aims to show sides of the conflict rarely seen by international audiences.
"What I usually try to do through my work is convey the human face or aspect of war. To cut through the politics, to see the faces of the people that are affected," J.T. Blatty, a U.S. veteran turned photographer whose work is part of the exhibit told FOX 9 in an interview.
Not just a solider
Blatty has been in Ukraine since 2018, covering the conflict that began in 2014 when Russia first invaded Ukraine and annexed its Crimean Peninsula. She took the mother-daughter photo featured in the exhibit. It depicts an intimate and personal moment but also contains layers of complexity not always appreciated by American audiences.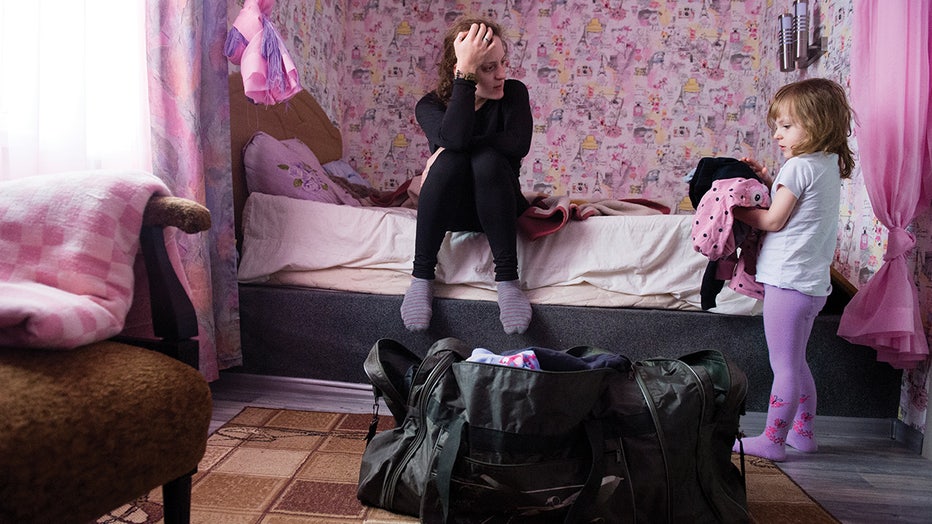 Yuyla Tolopa, UAF soldier and 2014/2015 Aydar volunteer veteran, packing the suitcase of her daughter, Mirolsava, to depart an apartment they were staying in during a break from Yulia's service on the frontline. Kostyantynivka, Donetsk region, Ukrain
The image was taken in 2019 before the 2022 invasion — a reminder Ukraine has been fighting Russia and its proxies for years. The mother is Yulya Tolopa, a Russian woman who came to Ukraine following the Maiden protests. She joined a volunteer battalion when the war first started in 2014, and then later joined the Ukrainian army in 2015. She is now a Ukrainian citizen — a reminder that the war is not, ultimately, about a conflict between peoples or cultures, but a struggle for survival.
"Somebody can identify with Yulya not just as a soldier, but as a mother and a human," Blatty said.
Mariupol as a city with life
The exhibit was organized by Roman Tyshchenko, a Ukrainian Fulbright scholar studying youth development at the University of Minnesota. It took months of work to put together.
"I'm happy that Americans will see it because, for most people, it's still impossible to understand what the war is because they haven't experienced it. But like I hope these pictures will help people have some idea of what's happening," he said.
While Tyshchenko appreciates all the photos, there are a few that resonate with him personally, including a series depicting the Azovstal steel plant in Mariupol by Ukrainian photographer Serhii Korovayny. They were taken in 2021 — one shows a protest sign from a period when residents there were fighting for better environmental protections.
In March 2022, Russian troops invaded Mariupol and began a siege of the plant, during which a vastly outnumbered Ukrainian force held out for 80 days. The plant and other parts of the city were largely destroyed. In April, Russia bombed a theater in downtown Mariupol where civilians were sheltering, leaving approximately 300 people dead. That same month, satellite images appeared to show fresh mass graves in the outskirts of the city controlled by Russia. 
Russia now occupies Mariupol, but the plant and the city itself remain symbols of Ukrainian resistance.
"I was in Mariupol in 2019 on a business trip, and it was a super fast-growing city, with a lot of young people and a lot of hipster places. It's very sad to look at it now because Russians literally leveled it to the ground, in some parts of the city. This is a nice memory of what it looked like before," Tyshchenko said.
Korovayny, the photographer, said the decision to pick a photo from before the start of the full-scale war was intentional.
"For many of our viewers when you talk about Ukraine, when you talk about Mariupol specifically, they might have this image of the war, shelling, death and destruction in their mind and I totally understand it. Many of them started to be interested in Ukraine precisely when the war started," he said. "So it's pretty simple. I want to show that there was life before that. It was a peaceful city with its problems... pros and cons, and there was life."
"And I'm thinking a lot about I really want Ukraine to be a regular country and one of many European nations to live in peace with its neighbors. And I want to show Mariupol as it was — a city, not just a place from horrible TV news," he added.
Ukrainian resilience and resistance
Another one of Tyshchenko's favorites is the photo that starts the exhibit of the girl on the swing. It was taken by Ukrainian freelance photographer Alexey Furman in June 2022 in Borodyanka, a town northwest of Kyiv where residential areas were devastated by Russian airstrikes after the invasion. The town was later retaken by Ukrainian troops and is now being rebuilt.
"I think it's a good example of Ukrainian resilience and resistance. The building is destroyed and a lot of people have no place to live, but the girl is still smiling and just trying to have fun. I think it's a good description of any Ukrainian's mood, despite all the ruins and all the damage, they try to continue their lives and like try to enjoy life. So, yeah, I think it's a very powerful picture," he said.
The exhibit will be on display until May 14 in the Mill Commons area of the Mill City Museum. The exhibit will be open during regular business hours, Thursday and Friday 10 a.m.- 4 p.m., and Saturday and Sunday 10 a.m.- 5 p.m. To learn more, visit the museum's website here.