ATV crashes kill three children in Minnesota
(FOX 9) - Three children died in two ATV crashes in Minnesota on Saturday — two 10-year-old girls in Afton and a 13-year-old boy in Lent Township.  
Two girls killed in Afton 
The crash involving the two 10-year-old girls occurred just after 5 p.m. at the 1000 block of Neal Avenue South in Afton. First responders arrived to find them trapped under the ATV and attempted to render first aid, but both were pronounced dead at the scene, according to a press release from the Washington County Sheriff's Office. The cause of the crash is still under investigation.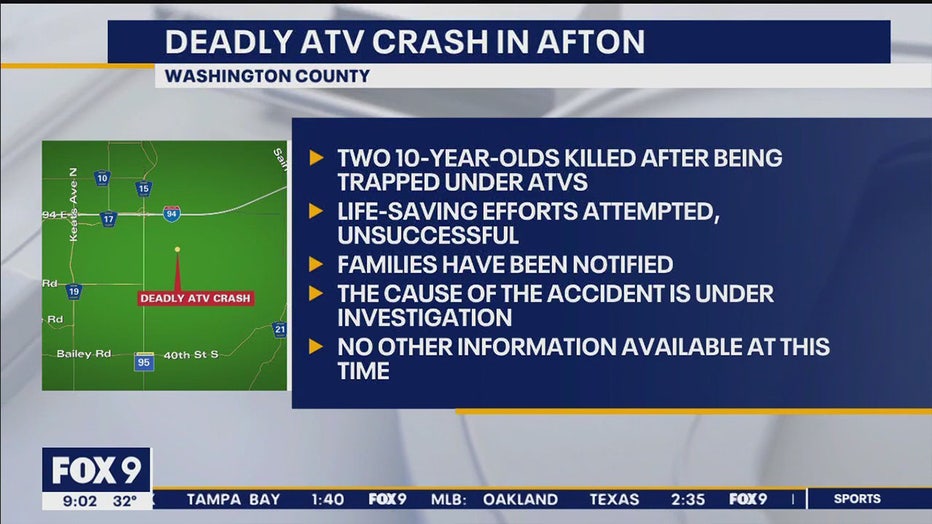 13-year-old from Chisago City dies from injuries 
The crash involving the 13-year-old boy happened earlier in the afternoon, at approximately 12:20 p.m. on Kale Avenue off Ivywood Trail in Lent Township. A deputy with the Chisago County Sheriff's Office arrived to find him injured near the ATV, with his condition deteriorating quickly, according to a press release from the Sheriff's Office. 
Medics treated him on the scene, and he was transported via helicopter to Regions Hospital, where he later died from his injuries. 
The Sheriff's Office identified the boy as Mason Lee Demenge of Chisago City.  There were no witnesses to the crash, and it is still under investigation.  He was wearing a helmet at the time of the accident. 
ATV safety tips 
Former longtime DNR ATV instructor Ron Potter says at this time of year, trail conditions are rough and changing quickly as the snow melts in some places. He stresses that young riders need to be careful, saying they're in the most danger if their feet do not reach a four-wheeler's foot pegs.
"The most important thing is that you have to fit the machine," said Potter.
Potter also stresses the importance of knowing the terrain you're riding on, especially now when the ground is soft and muddy in many places.
"You've got to be careful out there when you first get out in the spring," said Potter.
The Minnesota Department of Natural Resources has ATV safety tips on its website. These include: 
Ride only on designated trails and at a safe speed.
Always wear goggles, long sleeves, long pants, over-the-ankle boots, gloves and DOT-compliant helmets.
Never ride on paved roads except to cross when done safely and permitted by law. ATVs are classified as off-highway vehicles.
Never ride under the influence of alcohol or drugs
Never carry a passenger on a single-rider ATV. Carry no more than one passenger on an ATV specifically designed for two people.
Ride an ATV that's right for your size.
Actively supervise younger riders. ATVs are not toys.
If an ATV comes factory-rigged with seatbelts, wear them.