Suspect injured in gunfire exchange with Minneapolis police
MINNEAPOLIS (FOX 9) - Police say a suspect was injured during an exchange of gunfire with officers in Minneapolis early Thursday morning.
At 8:22 a.m., someone called 911 to report that someone was pointing a gun at them in the area of Logan Avenue North and Lowry Avenue North, according to Minneapolis Police Department spokesperson John Elder. Officers quickly located the suspect vehicle based on the description provided by the 911 caller and attempted to pull the vehicle over, but the driver refused to stop. 
A low-speed chase ensued. The vehicle crashed a few minutes later near Lowry Avenue North and Vincent Avenue North.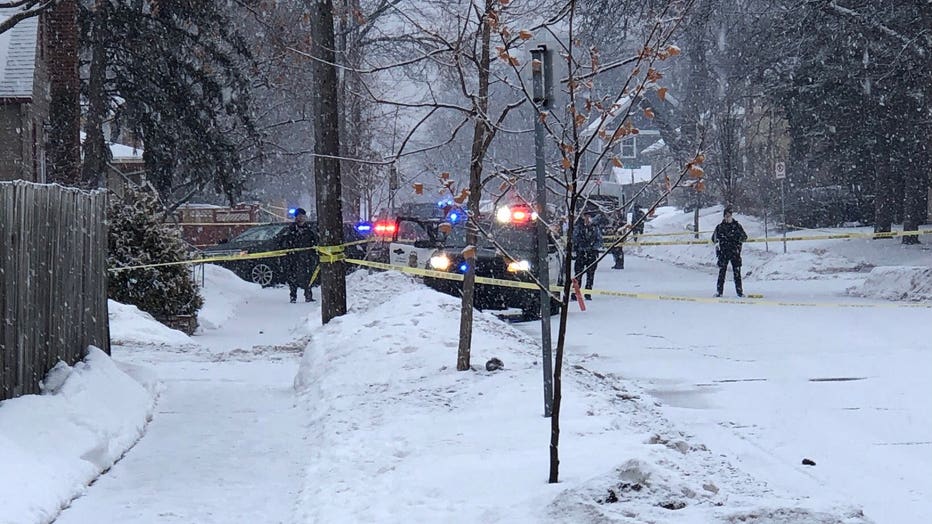 A large police presence in the area of Dowling Avenue North and Vincent Avenue North in Minneapolis. (Bill Keller / FOX 9 / FOX 9)
The suspect and officers exchanged gunfire. Once the shooting stopped, officers transitioned to using non-lethal munitions, which included 40mm rubber rounds and bean bags, Elder said. 
The suspect was taken into custody and was brought to a nearby hospital with non-life-threatening injuries. 
Sources told FOX 9 the suspect, who fired from inside the vehicle, was struck several times. The gunfire left shattered windows and at least one bullet hole in an MPD squad car. 
No officers were injured. 
Weapons were visible in the suspect vehicle, according to Elder. 
The Minnesota Bureau of Criminal Apprehension has been called to investigate the incident. 
Witness recounts police shooting
In a video shot on his cell phone, local real estate agent Chris Hewitt described the unfolding situation. 
"I heard pop, pop, pop and went, 'oh crap'," he said told FOX 9. He insisted from what he saw and heard, the suspect fired first.
Hewitt said he started broadcasting live on his Facebook feed because he wanted everyone to know what was happening during the standoff, with law enforcement under increasing scrutiny when using deadly force. 
"Trying to make sure all the truth is out there," Hewitt said. "I think is important in this day and age on both sides. It was important that be said."