Here's where to get free food and deals for Super Bowl 2023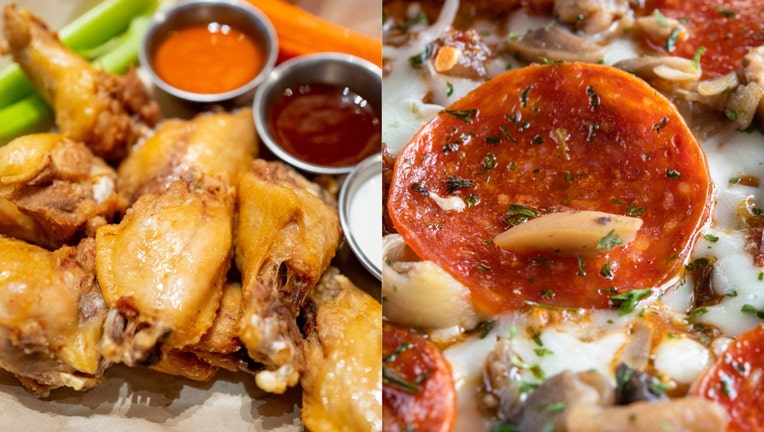 article
The Kansas City Chiefs and the Philadelphia Eagles will face off on Sunday, Feb. 12 for Super Bowl LVII in Arizona, and restaurant chains across the country are celebrating the big game with a multitude of deals and freebies on food for fans.
From deals on chicken wings to chances to win free pizza, there is no shortage of ways to celebrate and fill up while cheering on one's favorite team.
RELATED: Top Super Bowl food in every state: Dips, chips, tots and more
Here are some of the discounts and free food being offered in honor of the Super Bowl: 
7-Eleven
In celebration of the Super Bowl, 7-Eleven is giving customers a free large pizza via the 7NOW Delivery app on Feb. 12. All pizza flavors are included in the deal, like Extreme Meat, Cheese, Pepperoni, and Breakfast Pizza.
Applebee's
On Feb. 12, Applebee's customers can score 20 free boneless wings with any online order of $40 or more by using the promo code BIGGAME23 at checkout.
Auntie Anne's
Auntie Anne's is offering a $0 delivery fee now through Feb. 12 on qualifying orders of $12 or more via the chain's website or mobile app. Super Bowl fans can also order a Snack Stadium filled with pretzel choices like cinnamon sugar nuggets or mini pretzel dogs and assorted dips.
Buffalo Wild Wings
Buffalo Wild Wings is offering six free boneless or traditional wings for everyone in America if the Super Bowl goes into overtime. The offer can be redeemed on Feb. 27 from 4-7 p.m. local time for dine-in and in-person takeout. Meanwhile, Blazin' Rewards Members can also place a $25+ pre-order for pick up on Feb. 12 through the chain's website or app through Feb. 11 and receive six free traditional or boneless wings on their next visit. 
Chipotle
Chipotle Mexican Grill customers can get a free small side or topping of queso blanco with the purchase of an entree now through Feb. 12 by using the code QUESO23 at checkout. Orders must be made online or on the mobile app.
DiGiorno
If the football hits the goalpost ("a doink") during any kick of the Super Bowl, DiGiorno is offering the chance to win free pizza. Fans can enter here to win the tentative contest now through 11:59 p.m. ET on Feb. 12. In the event of a "doink," DiGiorno will give away 1,500 DiGiorno pizzas.
Little Caesars
Little Caesars wants to be part of Super Bowl fans' menu by offering discounts during all the post-season NFL games. Customers who order online at littlecaesars.com one hour before the Super Bowl can get 30% off at NFLShop.com, $2 off Caesar Wings with a purchase, $2 off a Classic Pepperoni pizza with a purchase, $0.99 Crazy Bread, and more food and drinks.
Subway
Subway fans who order on DoorDash can get a free footlong on orders $25 or more on Feb. 12. 
Taco Bell
Taco Bell is offering a bundle for Super Bowl fans, called the Ultimate Game Day Box. The order includes eight Crispy Chicken Wings with two spicy ranch sauces on the side, four Crunchy Tacos, and a Mexican Pizza for $22.
TGI Friday's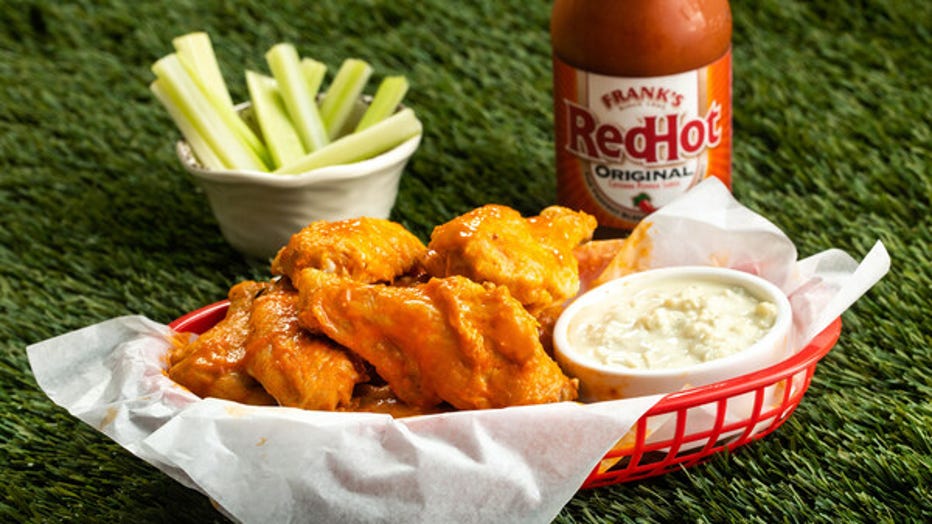 (Photo credit: Frank's RedHot)
Happening now through Feb. 12, TGI Friday's customers who order on DoorDash can get a free 12-count order of traditional or boneless wings on orders of $15+. The deal, thanks to a partnership with Frank's RedHot, will automatically be applied to qualifying orders at checkout, while supplies last.
RELATED: How to achieve 'Super Bowels' on Super Bowl Sunday and beyond
This story was reported from Cincinnati.