St. Paul Truck Park shooting: Devondre Phillips found guilty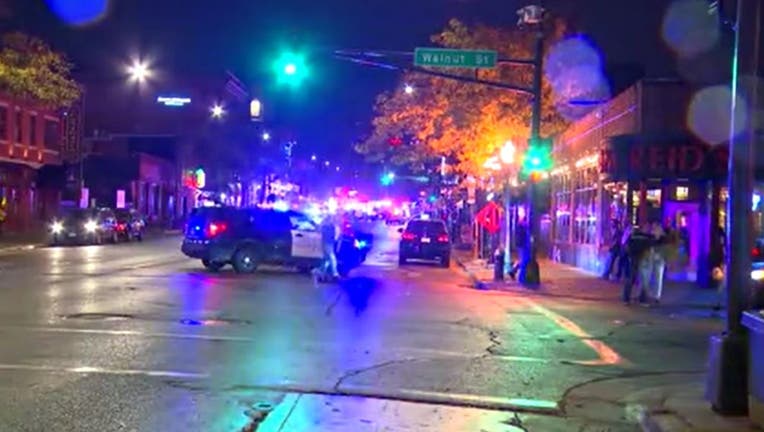 article
ST. PAUL, Minn. (FOX 9) - One man has been found guilty in connection to the shooting outside Seventh Street Truck Park in St. Paul that left a woman dead and multiple people injured. 
Devondre Trevon Phillips, of Las Vegas, was charged with several counts of second-degree attempted murder in connection to the Oct. 10, 2021, incident that killed Marquisha Wiley, 27, and injured 14 others. 
He was found guilty on all eight counts of attempted murder on Thursday.
Terry Lorenzo Brown, of St. Paul, was also charged in connection with the mass shooting. He faces multiple counts of second-degree attempted murder and one count of second-degree murder. He's scheduled to go to trial in April.
According to charges, police believe Brown and Phillips were in a "beef" over domestic abuse allegations involving Brown and the woman he dates, who Phillips describes as a relative of his.
On Oct. 10, police say both men exchanged gunfire inside the bar, leaving Phillips hurt and bystanders caught in the crossfire, including Wiley, who died after being shot in the back.
Prosecutors say Brown was ineligible to own firearms due to previous felony convictions on robbery and drugs charges.
In a statement to FOX 9, the family of Marquisha Wiley expressed gratitude for Thursday's verdict.
"Our family feels justice was served today for all the victims of the Truck Park Shooting," wrote Wiley's mother. "Even though Phillips was not charged with our daughter Marquisha Wiley's murder, we strongly feel his actions caused him to be just as equally responsible. Our family can now breathe a little lighter and prepare emotionally for Brown's trial in April. Our family would like to send prayers to everyone affected both physically and mentally that day along with their families."