Ramsey County declares local emergency as Mississippi River hits moderate flood stage
ST. PAUL, Minn. (FOX 9) - Ramsey County declared a local emergency on Tuesday as the Mississippi River reached moderate flood stage and is anticipated to reach a major flooding stage in St. Paul later in the week.  
The National Weather Service says the Mississippi River in St. Paul is expected to reach moderate flooding levels, above 15 feet, by the end of Tuesday and major flood levels by Thursday. The NWS issued river flood warnings for 40 counties and flood warnings for 12 counties in Minnesota as of Tuesday afternoon. You can see the full list of active warnings here.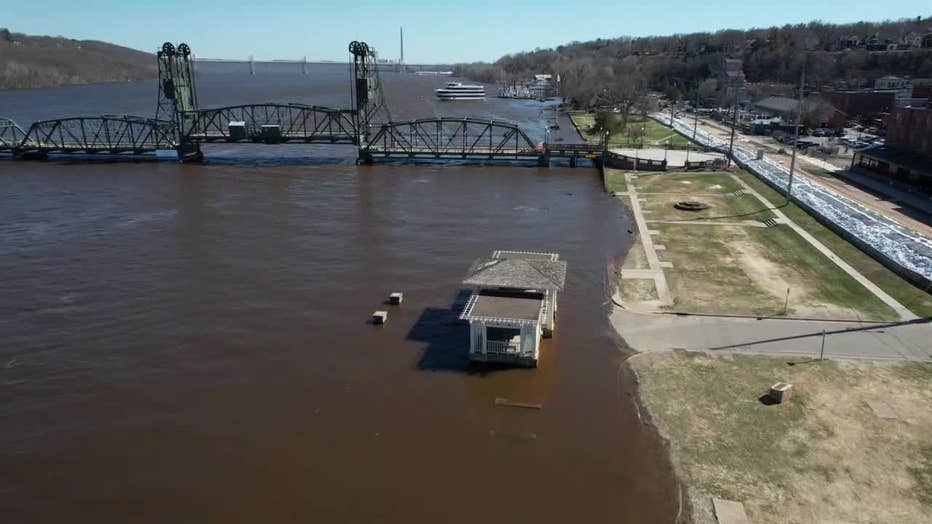 Ramsey County officials said the emergency declaration is in response to the NWS alert allowing the county to request aid and resources from the state and Department of Homeland Security to respond to potential issues during the flood. 
"This declaration of emergency does not necessarily mean that lives are in a direct, imminent risk, or that major damage has or will occur, rather, it means that the county is fully involved in the preparedness and response," said Safety and Justice Deputy County Manager Scott Williams in a statement. 
Other flooding preparations took place at the St. Paul Downtown Airport (STP) on Tuesday as crews extended a flood wall across the south end of the airfield. The main runway will be temporarily closed from 10 a.m. to 8 p.m. for the installation, which will also shorten the runway by 1,150 feet, according to the Metropolitan Airports Commission (MAC). 
The wall currently stands at 4 feet high but can be raised an additional 4.5 feet if needed. This is the seventh time the flooding system has been used since it was developed in 2008, according to MAC. 
Additionally, St. Paul has already closed several roads, parks, and facilities in preparation for rising flood levels. To see the full list click here.
The following roads are closed in St. Paul: 
Shepard Road/Warner Road between Eagle Parkway and Highway 61 was closed on the evening of April 16 to vehicle, bicycle, and pedestrian traffic.
Sibley Street and Jackson Street between Kellogg Boulevard and 2nd Street are closed to through traffic. These one-way street segments that normally connect to Shepard Road have been converted to two-way traffic open only to access the buildings.
Water Street/Lilydale Road between Hwy 13 and Plato Boulevard was closed on April 14 to vehicle, bicycle, and pedestrian traffic.
Flood Closures (Credit City of St. Paul)  (Supplied)