Police investigating after bouncer punches handcuffed suspect on video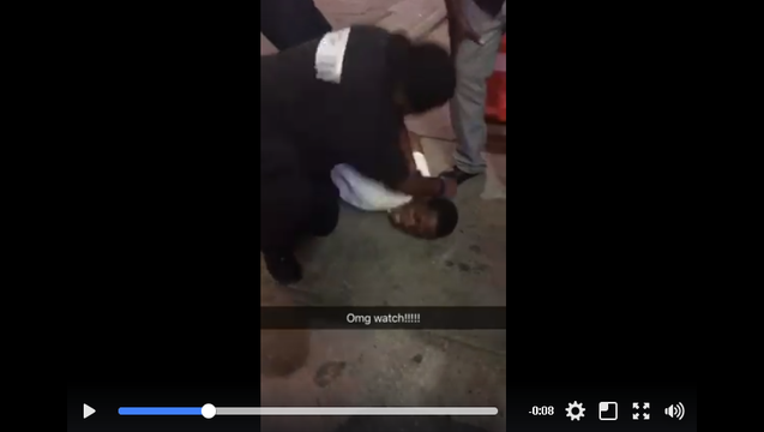 MINNEAPOLIS (KMSP) - Minneapolis Police were dispatched to a situation outside a downtown strip club early Sunday morning in which a patron was assaulting a bouncer, but are now looking into a video of the incident reportedly showing the bouncer punching the handcuffed suspect while a Minneapolis Police officer stands over the man.
28-year-old David Mitchell of Burnsville was cited for a misdemeanor 5th-degree assault after officers "witnessed him assault a security [officer]," the report says. He was later treated for injuries sustained during the altercation outside Augie's Cabaret, and the case was declared closed.
On Sunday, however, the case was reopened after a cell phone video reportedly showing the incident was posted on Facebook and shared more than 500 times, racking up almost 20,000 views over the course of the following day. 
The 10-second clip opens with the bouncer holding a handcuffed man's head down on the pavement, followed by three quick punches to his face. A uniformed Minneapolis Police officer stands over the man, seemingly talking into his shoulder microphone the entire time. 
Bystanders call repeatedly for the man to stop, with one person yelling, "You can't do that, man!" Hundreds of people also suggested the officer could have done more to stop the situation from escalating.
Minneapolis Police acknowledged the video, saying in a statement that the Office of Police Conduct Review is currently reviewing the incident.
"An adult male was cited and released for misdemeanor 5th degree assault. While in custody, this suspect was assaulted by another adult male," the statement reads. "It appears that an officer was near the second incident and was in the process of activating his body camera and speaking into his shoulder microphone at the time it occurred."
The security guard was identified in the report as Lonnie Davis, also naming the two officers as Tobias Anderson and Joseph Klimmek.
The original police report states that the two men, Davis and Mitchell, do not know each other and that alcohol was a factor in the situation.