One-day special session to finish MN budget held today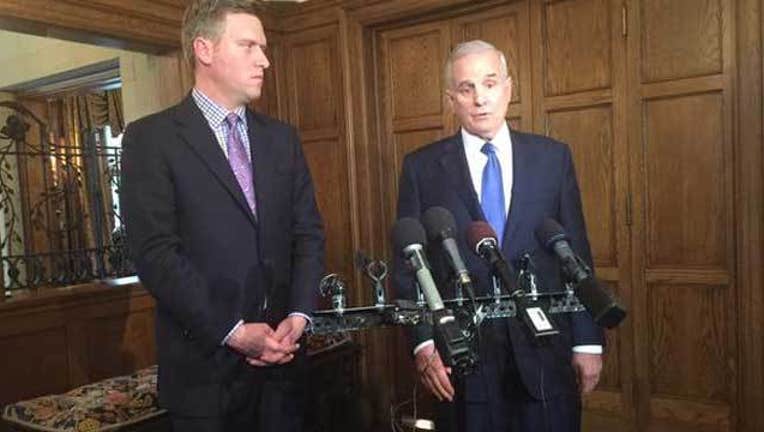 article
Extra money for public schools and millions of dollars in public works projects will headline a special session scheduled to begin at 10 a.m. Friday. But after weeks Dayton spent haggling with majority House Republicans over the size of an education budget and other lingering issues, it was discord among Senate Democrats -- chiefly over a package of environmental changes that some decried as toxic and unacceptable -- that put a quick resolution in doubt.
Dayton met in private with DFL senators for nearly an hour Thursday night, hoping to sway enough lawmakers to stomach a bill they dislike in the name of finishing the budget and heading off a partial government shutdown that would take hold July 1.
After meeting with the governor, Senate Majority Leader Tom Bakk said he still wasn't sure if there were enough votes to pass the budget bill.
"I don't think it changed many minds," the Cook Democrat said of the governor's pitch.
In all, lawmakers are set to take up six bills Friday, including the environment budget and two others Dayton struck down. A borrowing bill for public construction projects with crucial money to cover renovation overruns at the Capitol is also on the agenda, as is funding for arts and conservation programs with funding to restore a valuable fine art collection inside the Capitol.
If the environmental bill -- or any of the three remaining pieces of the budget -- fails, it could extend the special session and prompt a partial government shutdown at the end of June.
Just 10 Senate Democrats, a quarter of the majority caucus, voted for the bill last month, requiring all but one GOP senator to get behind the budget to pass it. Several Senate Democrats say the final product isn't enough to win their votes. And the Senate's top Republican said the 25 votes his caucus put up in May could dwindle to just 10 as GOP members take issue with the growing size of the state's total budget.
Sen. Katie Sieben, a Newport Democrat and Assistant Majority Leader who voted against the original bill, said the improvements don't cut it.
"If leadership was real interested in getting people who voted against the bill the first time, they would have reached out to ask what needed to change," she said of the 29 DFLers who voted against the bill. "People are frustrated."
Dayton wouldn't comment on his discussion with lawmakers. But earlier Thursday, he called on legislators to put aside "grandstanding" about their objections and get on board to avoid nearly 9,500 state employee layoffs.
But the list of DFL objections is long even after some changes they see as positive. An emptied account dedicated to landfill cleanup will be replenished with an expected surplus, and a change allowing companies that self-report violations to escape penalties was altered so that fines are waived only after working with the state to remedy an infraction.
Sen. John Marty said he's lobbying his colleagues to vote no this time. He objects to a provision that abolishes the decades-old Citizens' Board at the Minnesota Pollution Control Agency and exempts copper and nickel mines on the Iron Range from the state's solid waste regulations.
"It's not a package DFLers should be proud of," said Marty, DFL-Roseville. "I'd love to see three-quarters (of Senate Democrats) vote against it this time."
Senate Minority Leader David Hann said Bakk can't expect Republicans to power the bill through again. The Eden Prairie Republican didn't cite any particular new provisions that may scare off GOP votes, but rather the total size of the revamped budget -- nearly $42 billion over the next two years -- and the secretive process in which it was crafted.
Hann estimated 10 Republican senators will vote for it, not the 25 who supported it in May.
Bakk said support from the GOP would be essential to seeing the bill through and wrapping up the Legislature's business on Friday.