Omar, Samuels duel over public safety, progressive values in Democratic primary
MINNEAPOLIS (FOX 9) - U.S. Rep. Ilhan Omar doesn't seem worried.
Two years after getting outraised by a seven-to-one margin leading up to the primary yet defeating her Democratic challenger by a wide margin, Omar is again defending her seat from a fellow Democrat. But this year, unlike in 2020, she hasn't seen a need for television ads or debates with Don Samuels, a former Minneapolis city council member.
"What we recognized in the last primary and the last election in 2020 is that over $20 million was spent and our voters decided that they wanted to make sure they had someone who was co-governing with them, who was successfully delivering for them, who was doing the things they needed them to do," Omar said in an interview.
Samuels is campaigning on the stark differences between he and Omar on public safety, though he says he agrees with the second-term congresswoman on most other issues. Samuels has also criticized Omar's style of politics, saying she focuses too much on making a point and less on getting things done.
"For me to sit here and see the divisiveness in Washington, the breakdown in relationships between Republicans and Democrats, the breakdown in our democracy, the reversing of voting progress, the stalling out of rights and the demand for the return to darker days, and then to see some of that divisiveness in my own party being led by my own congressperson, I said, 'OK, somebody has to do something,'" Samuels said in an interview.
Samuels outraised Omar in the period between April and June, raking in nearly $600,000 to her $400,000. Yet that is far behind the pace of Antone Melton-Meaux, whose haul totaled $3.2 million over the same period in 2020. Omar defeated Melton-Meaux by roughly 20 percentage points.
Outside groups have been more muted this year, too. Only this week did a pro-Samuels group start running TV ads, totaling $358,000 across the four Twin Cities stations. The super PAC, called Make a Difference MN-05, was formed July 27 and recently listed just five donors: Jay Cowles and Vance Opperman of St. Paul, Kelly Doran of Minneapolis, Bob Hasselow of Edina, and Greg Page of Maple Plain.
Samuels said Omar has been avoiding debates; Omar did not directly address the issue in an interview. Over the past week, both candidates have done their own town hall meetings in the district, which includes all of Minneapolis and a handful of first-ring suburbs.
This weekend, U.S. Reps. Cori Bush of Missouri, Rashida Tlaib of Michigan, and Ayanna Pressley of Washington -- members of the so-called "Squad" -- campaigned for Omar.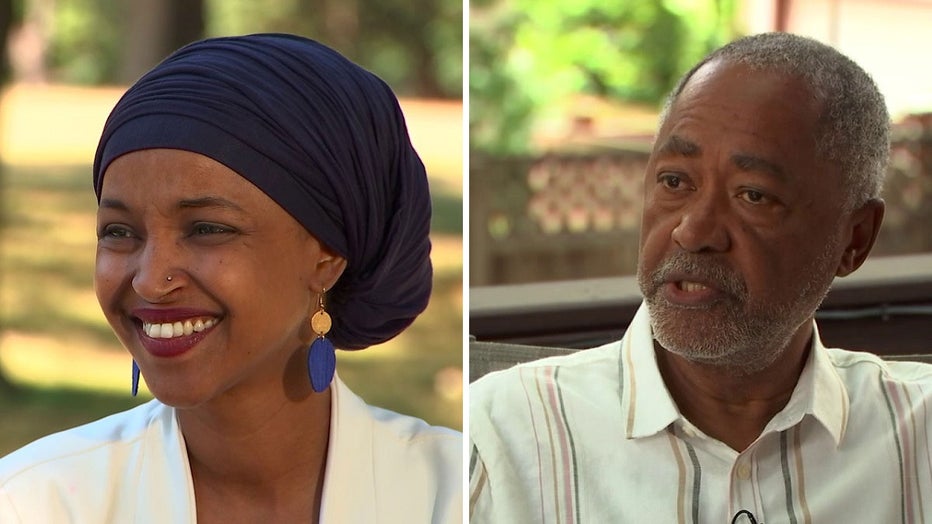 Rep. Ilhan Omar and challenger Don Samuels (FOX 9)
Public safety
The primary between Omar and Samuels is, in some ways, an extension of a campaign they fought by proxy over the future of the Minneapolis Police Department last fall.
Omar advocated for a ballot question that would've stripped MPD out of the city charter, replacing it with a safety agency tasked with taking a public health approach to crime. She was a key member of the "Don't Rank Frey" effort, in which she encouraged voters to pick anyone but Minneapolis Mayor Jacob Frey in the mayoral race.
Samuels, in contrast, was a key ally of the mayor in opposition to the ballot question. He led an unsuccessful lawsuit to get the police question thrown out. 
In November, Samuels' side won with 56% of the vote on the police question. Frey was re-elected.
Frey is now supporting Samuels, who has hired some of the same staffers who ran the campaign against the police question. Samuels' strategy: win the suburbs, then peel off Minneapolis voters who supported Omar in 2020 but opposed the police ballot initiative a year later.
"It proved I was in fact right with the north side African American community and right with the majority of voters, and she wasn't," Samuels said. 
Since the start of 2020, Minneapolis Police staffing levels have plunged from more than 900 to 564 sworn officers in July, according to city data. The city needs to return to pre-2020 staffing levels, Samuels said.
Omar disagrees.
"We can't just say how many police officers we want or how many police officers we don't want, or how many police officers we don't want," she said. "We have to address the real issues, which (are) trust, accountability, transparency, and that's what I've pushed for, always."
Omar sees the police question's defeat in a different light. She pointed to Minneapolis's newly appointed public safety commissioner and the continued scrutiny of MPD's practices from the state and federal level as proof that the city is finally incorporating her ideas.
Samuels failed to make any of the changes while he was on City Council in the 1990s and early 2000s, she said.
Abortion
In July, Omar was briefly arrested during a protest outside the U.S. Supreme Court over abortion rights. Republicans criticized the move as a stunt, while Samuels defended his rival and said he too would fight for abortion rights if elected to Congress.
Yet the two see such public displays differently. Omar draws a line between the protest and last week's vote in Kansas, where a solidly Republican state voted overwhelmingly to maintain abortion access by rejecting a ballot measure that sought to curtail it.
"Things like what happened in Kansas are not going to happen if we do not continue to keep this issue in the spotlight," she said.
Samuels said he admires Omar's activism, but characterized her as an ineffective policymaker.
"That's the part where I think Ilhan is missing," he said. "She's missing from those rooms, and she's on TV."
After a first term beset by distractions -- including controversies and then-President Donald Trump's attacks -- Omar is on the cusp of two major policy successes.
This month, President Joe Biden is set to decide whether he will cancel some student loan debt. Omar has long advocated for student loan forgiveness; she says Biden has committed to act in the first two weeks of August.
And on Sunday, the U.S. Senate approved a $740 million package of climate initiatives, tax increases on some major companies and corporate stock buybacks, and a proposal aimed at lowering pharmaceutical costs.
Omar said it was proof that progressives in Congress can compromise and govern.
"We have been the champions of the president's agenda. We have been the champions of making sure Democrats have a win -- to the contrary of what people think our work has been in Congress," she said.
Omar has long sought the climate package, voting against the 2021 infrastructure law because the climate measures weren't included. Samuels says Omar shouldn't have voted against the infrastructure spending, which will fund new projects in Minnesota.
Minnesota's fifth congressional district is one of the most solidly blue seats in the country, meaning whoever wins Tuesday's primary will almost certainly carry the district in November. Cicely Davis is seen as the favorite to win Tuesday's Republican primary.