Minnesota State Fair still needs to hire 100 officers, asks for help
FALCON HEIGHTS, Minn. (FOX 9) - The Minnesota State Fair has requested the Ramsey County Sheriff's Office for help with security at the Great Minnesota Get-Together this year, as the police department is 100 officers short. 
The fair dismantled its police department following police chief Paul Paulos' retirement in May 2021, with Ramsey County providing policing services at the 2021 event. Then last winter, the fair reinstated the Minnesota State Fair Police Department, with Commander Ron Knafla of the Ramsey County Sheriff's Office serving as the new police chief.
In a letter to Ramsey County Sheriff Bob Fletcher, from Knafla and Minnesota State Fair General Manager Brian Hudalla on Aug. 4, the fair officially requested assistance from the sheriff's office to support efforts to ensure fairgoers' safety. 
The letter said they've been working to reestablish the Minnesota State Fair Police Department, and their efforts have been "successful." They've hired 99 sworn officers and continue to recruit and hire with the goal of having 200 officers. 
But they anticipate they will "fall a bit shy of that number," the letter explains. Knafla and Hudalla said they expect attendance numbers to be similar to 2019, pre-COVID-19 pandemic, when more than 2 million people went to the fair.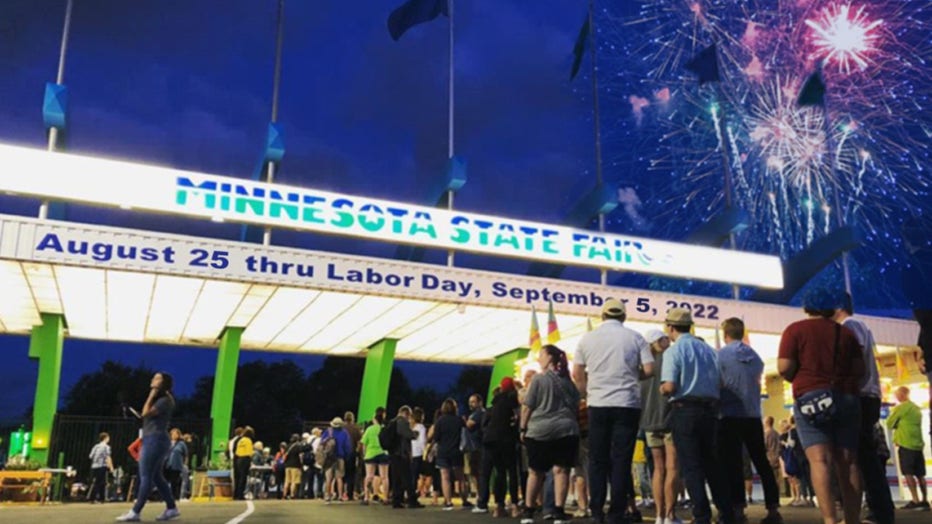 The Minnesota State Fair runs this year from Aug. 25 through Labor Day, Sept. 5.  (Minnesota State Fair)
The fair says it will pay the sheriff's office deputies $80 per hour, per state law. The fair seeks help on weekend evenings, and says it also wants to request the use of the county's community ambassadors, saying "they were integral to our operation in 2021 for deescalating situations."
Chief Deputy Dave Metusalem of the Ramsey County Sheriff's Office on Monday sent an email to employees that was obtained by FOX 9, saying the sheriff's office has agreed to send assistance to bolster the fair's police department.
"The exact form of that assistance will continue to be discussed with fair officials over the next two weeks," Metusalem said. 
Metusalem requested sheriff's office employees indicate their availability and desire to work overtime during the fair's 12-day run from Aug. 25 to Labor Day, Sept. 5.
Statement from Minnesota State Fair Chief of Police Ron Knafla
The Minnesota State Fair has a longstanding tradition of working with a variety of law enforcement agencies and experts on the local, state and national level to provide safety and security for the annual State Fair.
This includes everything from the Minnesota State Patrol providing a presence at the gates, the St. Paul Police and Fire Departments providing support and many others at the local, regional and federal levels. As needed, we may also request support from the Ramsey County Sheriff's Office; this is another example of our efforts to provide the safest possible event for all who attend. Our recruitment is going well and we are confident we will have enough officers when the fair begins.
Police and law enforcement officers patrolling the State Fairgrounds are an integral part of our safety and security plan. In addition to officers, we have several partners and components in place to provide an outstanding experience for all that are part of the fair.