Minnesota restaurants welcome back diners with open arms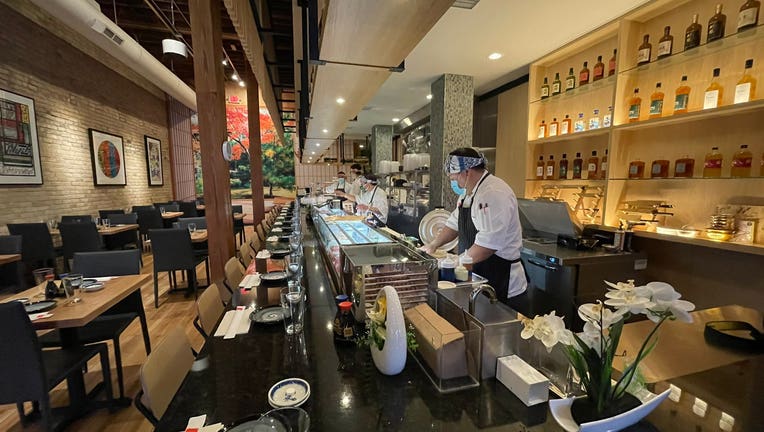 article
(FOX 9) - After a nearly two months, indoor dining resumed Monday at bars and restaurants in Minnesota. 
Last week, Gov. Tim Walz loosened the state's COVID-19 restrictions, ending his ban on indoor dining as well as allowing indoor entertainment venues to reopen at a limited capacity.
Bars and restaurants can reopen indoor dining rooms at 50% capacity starting Monday, with no more than 150 people in an establishment.
Six people can be seated at each table, with 6 feet of distance between tables. Bar seating will be allowed, with no more than two people per party.
Reservations are required, and a curfew will be in effect from 10 p.m. to 4 a.m.
For Madi Chaffee, serving a few lunchtime diners at Lola's Lakehouse never felt so good.
"It's really nice to be back in my work uniform and here," Chaffee said. "It's some normalcy in the world right now."
In November, the single mother of two worried about how her family would get though the Christmas season on unemployment. Then, some FOX 9 viewers gifted her more than $1,500 in cash, helping ease her burden.
"It gave me time to spend with my kids over the holidays," said Chaffee.
The owner of Lola's said the easing of pandemic restrictions couldn't come soon enough. He said he's grateful the doors are back open, even if capacity is limited.
"If this date of reopening had been extended for any significantly longer, we probably would have had to make some really tough decisions," said Kyle Berger, the owner.
By mid-afternoon, Lola's had already booked 95 reservations for a Monday night in January. Berger said that is unheard of under normal circumstances and shows the pent up demand Minnesotans have to get back out to share a meal or a drink.
At Billy Sushi in the North Loop of Minneapolis, employees were excited for the return of customers for re-opening night.
"Mentally physically, emotionally we are just so excited - like you can't even hide that smile," said Billy Tserenbat, the owner of Billy Sushi. "It's going to be an awesome day!" 
The first customer back in the door was longtime fan, Gene Giddleson. 
"Just hungry, I didn't eat lunch because I knew I was going to come here," said Giddleson. "It's fresh, everything always looks good, you've got a great guy that owns it."
While the support remains high for restaurants around the metro, the road for restaurant owners is no less rocky. For the last eight weeks businesses have continued carry out, but owners say indoor dining is a whole different ball game. 
"It's not an add water recipe," said Stephanie Shimp, an owner of the Blue Plate Restaurant Group. "It requires lots of ingredients and lots of prep and lots of schedule writing. There are a lot of moving pieces here."
Those pieces will likely continue to move, but for Shimp and Tserenbat, customers support keeps them going.
"We've been super lucky in such a way we have great people around here constantly supporting," said Tserenbat.