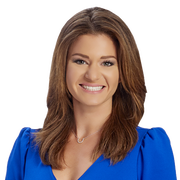 Alex Lehnert
Reporter and Weather
This Colorado girl made her way to the land of 10,000 lakes from the Central Valley of California.
From the time she was a little girl, Alex knew she wanted to be a meteorologist. After graduating from the University of Colorado, she started walking down that path toward her dream. Alex kicked off her career in Casper, Wyoming where she worked as a reporter, anchor, producer, editor, weather-forecaster, you name it. From there it was off to Fresno, California to report, and forecast the weather.
Alex has won awards for her work on stories, and even was named Employee of the Year while working in Fresno.
When she's not talking news, or temps, Alex likes to spend as much time outside as the weather allows. She and her pup Fin enjoy hiking, paddle boarding, camping, and cross-country skiing. During the winter Alex volunteers with the Courage Kenny Ski program at Hyland. She also spends a good amount of time painting, and experimenting in the kitchen.
The latest from Alex Lehnert
Community members showed support Saturday for East African-owned businesses that were struck by a vandal this week in Minneapolis.
As St. Paul police are investigating the second homicide in just over a week in the city, officers are calling on members of the community who can help solve and prevent cases like these to step up.
Minnesota Governor Tim Walz is finally making good on his campaign promise after he was elected last year.