Minnesota high school bowler rolls perfect game during state tourney
(FOX 9) - A Minnesota high school bowler put on an impressive performance this weekend, rolling a perfect game during the state tournament.
Bowling has been a part of life for 18-year-old Brady Drkula.
"Three days a week since I was younger and still bowling now three days a week," he says.
FOX 9 spoke with Brady inside Drkula's 32 Bowl, a bowling alley started by his grandfather. But being close to the sport doesn't mean the game is easy. "It's hard, like hitting the same spot over and over again and hopefully getting lucky with the pins," he said.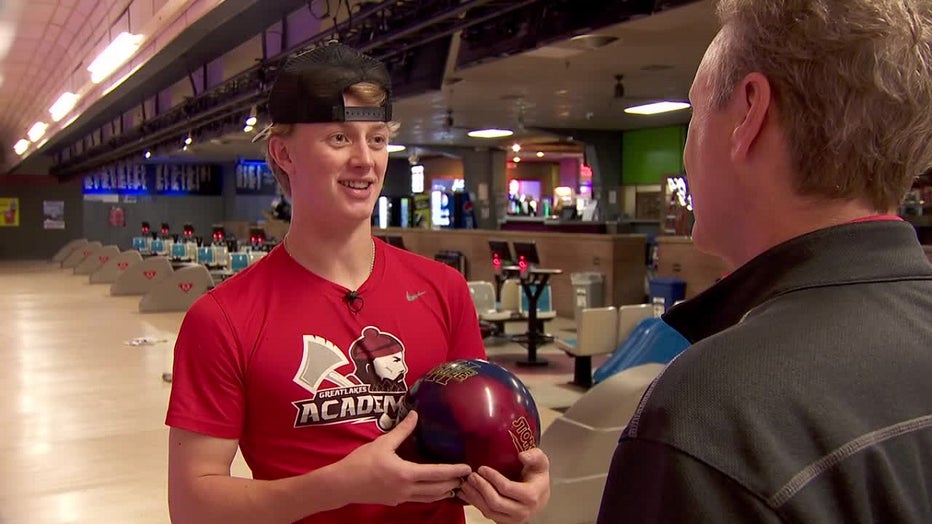 Brady Drkula ahs bowling in his blood and proved it with a gritty performance this weekend in the Minnesota state tournament. (FOX 9)
But this past weekend at the Minnesota State Tournament, Brady made it look easy, bowling a perfect 300.
"I think there was a total of 40 people standing behind me watching that last shot and the whole house is quiet," he said.
He said he rarely gets nervous but, in that moment, there's no escaping it.
"And just quiet and right when it hits that pocket and explodes and everybody's just cheering."
It's actually his second 300 in competition and his 7th overall. But what made this one even more special is how he did it.
"So because of my blister, I had to turn my hand sideways and flip the ball sideways," he explained. "So it didn't put pressure on my finger, so I can get around the ball."
Because of a blister, he threw exclusively what's called a backup ball, curving left to right, which he had only ever used to pick up spares.
"I was very surprised, but also knew I could do it and didn't know I could do it that good," he added. "I was happy with it."