Video: Minneapolis light rail train strikes car; 7 hurt, 1 in critical condition
MINNEAPOLIS (FOX 9) - One person is in critical condition and six others were hurt when a car was struck by a light rail train in Minneapolis Monday night. 
Metro Transit Police say the crash happened shortly after 9 p.m. when the car traveling westbound on Portland Avenue was hit by both a southbound and northbound train traveling on South Fifth Street. The vehicle became sandwiched between the two trains.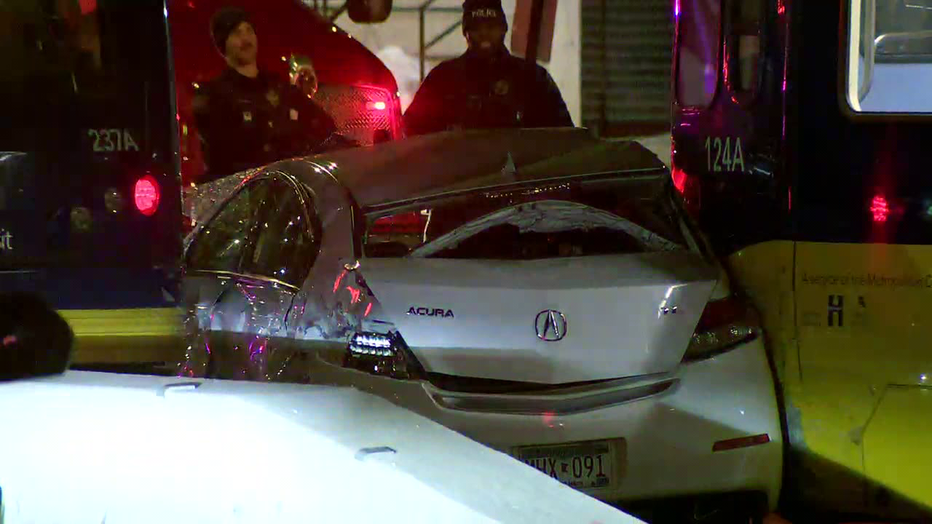 Video shows the car entering the intersection during a yellow light prior to the crash and then being hit by a train. That train then pushes the vehicle into a stopped train on the other side of the intersection.
"Light rail vehicle movements are guided by signals along the alignment. As part of the investigation, we will be looking at what the rail and traffic signals at this intersection were showing when the light rail vehicle entered the intersection. An investigation may take several weeks to complete," Metro Transit said. "Safety is our highest priority, and our operators receive extensive training both at their time of hire and throughout their career. All collisions are thoroughly investigated."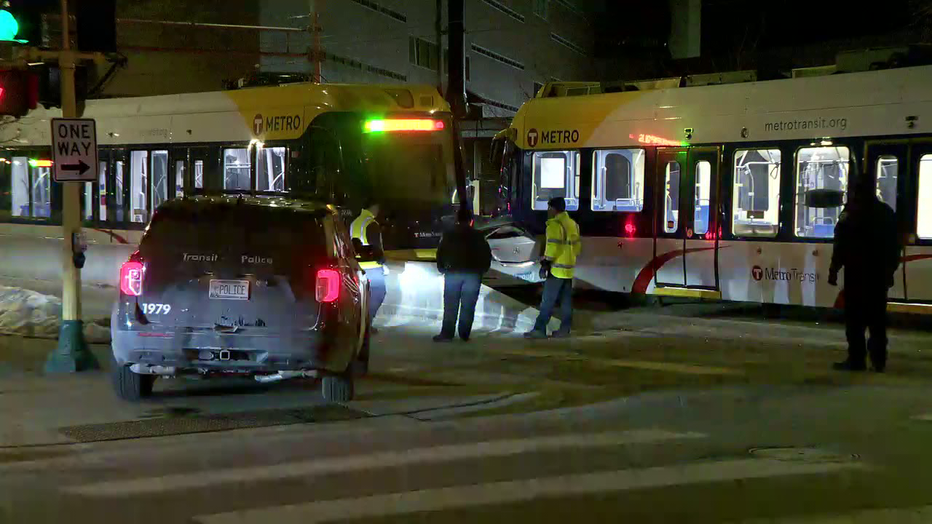 Emergency responders needed to extradite the two people from the car and take them to the hospital, where one is listed in critical condition. Five people on the train also received minor injuries, Metro Transit said. 
The light rail line was shut down until the scene was cleared at about 10:30 p.m., authorities said. 
An investigation by Metro Transit police remains ongoing. The operators involved in the crash are on administrative leave, which is the standard operating procedure. 
Since light rail service began in 2004, there have been 416 recorded collisions with vehicles, pedestrians or cyclists, Metro Transit said. In nine of the incidents, it was determined the train operator's actions caused the crash. 
Metro Transit adds that over the past five years, there has been fewer than one collision for every 100,000 miles traveled by light rail vehicles.