Joe Kapp, who led Vikings to their first Super Bowl, dies at 85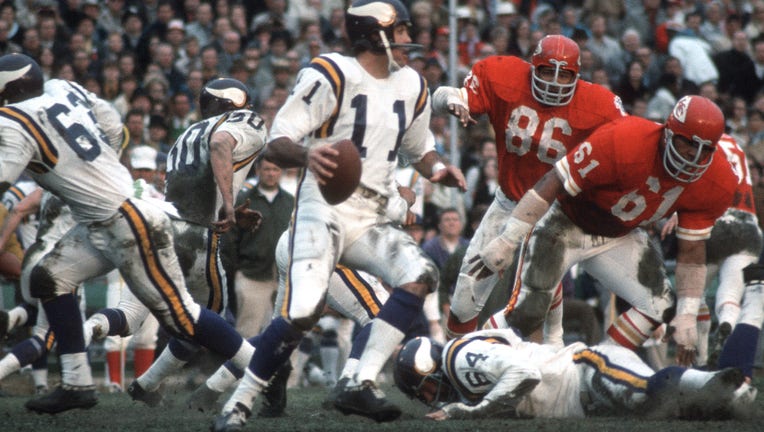 article
EAGAN, Minn. (FOX 9) - Minnesota Vikings legend Joe Kapp died Monday at the age of 85 after a lengthy battle with dementia, according to his family.
Kapp played with the Vikings for three seasons, taking the franchise to its first Super Bowl — a 23-7 loss to the Kansas City Chiefs — in 1970. 
During the 1969 season, Kapp also set an NFL record when he threw seven touchdown passes in a game against Baltimore Colts. 
"Men like Joe Kapp are the cornerstones the Minnesota Vikings franchise was built upon," Vikings Owner/President Mark Wilf said a team-issued statement. "Joe's toughness and competitive spirit defined the Vikings teams of his era, and his tenacity and leadership were respected by teammates and opponents alike. We mourn Joe's loss with his family, friends and Vikings fans around the world."
Kapp is also known for declining a Team MVP award at a Vikings' banquet, saying, "There is no one Most Valuable Viking. There are 40 Most Valuable Vikings."
In that era, NFL rosters were 40 players who largely played for 60 minutes. Vikings legend Paul Krause and Kapp were teammates in 1969.
"Everybody loved Joe Kapp. He was a great leader, a great friend and he really held our team together," Krause said in a statement. "He was a guy who liked to have fun and win football games, and that's what counted. I respected him for his love of the game and love for his teammates. We lost a good friend."
Kapp was a standout quarterback at California, leading the Golden Bears to their last Rose Bowl appearance in 1959. He returned to California to be the coach for five seasons in the 1980s, and was on the sideline for the infamous game with Stanford where the Cardinal band was out on the field before the game was over.
Kapp spent three seasons in Minnesota and has since been named one of the 50 Greatest Vikings.