Gov. Walz extends Minnesota's stay-at-home order to May 4, includes exemptions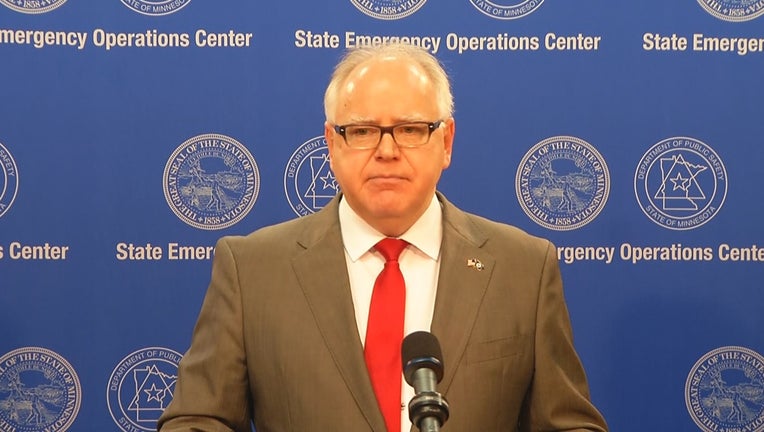 (FOX 9) - Minnesota Gov. Tim Walz extended his stay-at-home order through May 4, forcing thousands of businesses to remain closed for three additional weeks as state health officials warned that the peak of the coronavirus pandemic was soon to hit.
Walz's new order includes a handful of new exemptions, allowing some workers to get back on the job Thursday morning. Landscaping and lawn services were included, but there was little clarity about which companies were specifically in or out.
The statewide bar, restaurant and school closures will be matched up to the stay-home extension, so they will all remain closed through May 4.
"This will not be like turning on a light switch. This will be a complex way of restarting the economy," Walz told reporters during his first in-person news conference in more than two weeks, after the governor was self-quarantined at his residence for 14 days. "The one thing I'm most worried about is signaling to anyone – to the health care industry or Minnesotans – that we're out of the woods and we can relax what we're doing."
Many other businesses, who have been lobbying the governor about safety measures they've taken, remain in limbo. Walz pledged to have his agency commissioners start working with businesses to develop protocols, and said he would potentially allow other industries to reopen in the coming weeks.
Minnesota has seen 39 deaths from the coronavirus, while 64 Minnesotans are hospitalized in intensive care. But the number of cases per capita is far lower than other Midwestern states, and Walz credited social distancing measures put in place in mid-March.
Walz said he based his decision to extend the stay-home order on Minnesota's projections that predict a far higher number of infections and deaths than other models do.
The state has re-run its model, which originally showed 74,000 Minnesotans would die if state officials did not impose social distancing. The updated projections show a best-case scenario that 6,000 Minnesotans will ultimately die, while the middle range is closer to 20,000, Health Commissioner Jan Malcolm told reporters who pressed her to reveal the numbers.
Minnesota will need at least 3,000 intensive care beds when the infection peak hits in May through July, Malcolm and Walz said.
But Minnesota's projections are wildly different than other models that show a lower death rate and an earlier peak. The Institute for Health Metrics and Evaluation/University of Washington model suggests Minnesota will see 456 deaths by August and a virus peak on April 23.
"We keep hearing about the Washington model. Why is that so much lower in deaths? We're trying to understand that too," Malcolm said. She pledged to brief reporters on Friday about how Minnesota came up with its projections.
For now, much of the state's economy will be turned off through early May, and Walz acknowledged that the effects could continue into summer.
"It's not going to be a typical summer," the governor said, urging people not to overrun northern Minnesota lakes as the weather warms up and saying there would not be "party barges" on Lake Minnetonka this year. He has remained noncommittal about allowing golf courses to reopen for play.
His original executive order included exemptions for essential workers -- estimated to be 78 percent of the state's overall workforce -- and allowed Minnesotans to leave their homes for needed items, health care, or outdoor exercise. Those will continue.
RELATED: Minnesota issues first $600 CARES Act payments to people receiving unemployment benefits
The new order exempts other businesses from the restrictions, including lawn services, landscapers, garden centers, florists, pet adoption centers, veterinarians caring for a sick person's pet, and arts and crafts stores (but only to sell materials for personal protective gear, like homemade cloth masks).
Some Republican lawmakers were critical of Walz for extending the stay-home order.
"It is past time to allow reopening of businesses that are clearly COVID-safe," tweeted state Sen. Jim Abeler, R-Anoka. "Many should have never been closed in the first place. Tragically some of those are gone for good. Unnecessary collateral damage in the COVID war."
 
Under the extended order, Minnesotans may leave their residences only to perform the following activities, and while doing so, they should practice social distancing:
Relocation to ensure safety, such as relocating to a different location if your home is unsafe due to domestic violence, sanitation, or reasons related to essential operations

Health and safety activities, such as obtaining emergency services or medical supplies.

Outdoor activities, such as walking, hiking, running, biking, hunting, driving for pleasure or fishing.

Necessary supplies and services, such as getting groceries, gasoline, or carry-out

Essential intrastate and interstate travel, such as returning to a home from outside this state.

Care of others, such as caring for a family member, friend, or pet in another household.

Displacement, such as moving between emergency shelters if you are without a home.

Moving or relocation, such as moving to a new home or place of residence.

Voting, including all local and state elections.

Funerals, provided that no more than ten attendees are gathered and strict social distancing is enforced.

Tribal activities and lands, such as activities by members within the boundaries of their tribal reservation.
Workers who work in critical sectors during this time are exempt from the stay at home order. This includes, but is not limited to, jobs in: 
Healthcare and public health

Law enforcement, public safety, and first responders

Emergency shelters, congregate living facilities, drop-in centers

Child care

Food and agriculture

News media

Energy

Water and wastewater

Critical manufacturing
More information on which sectors can return to work: