'Flooding tourism' benefits one riverfront business
HUDSON, Wis. (FOX 9) - Flooding isn't bad news for everyone along the water's edge. Some businesses are underwater, but others are benefiting from the overflowing rivers.
Under the rippling waters of the Mississippi River in Hager City, Wisconsin, runs the road to the Harbor Bar.
Nobody's belly up now, and some nearby homes are abandoned for the moment as well.
The closest liquor store is flooded, too, and only brave drivers can make it into the adjacent neighborhood.
In Hudson, parking is impossible at Lakefront Park along Lake St. Croix unless you're a goose.
But the flooding isn't necessarily bad for business.
It's created a kind of curiosity and brought people out to the open storefronts.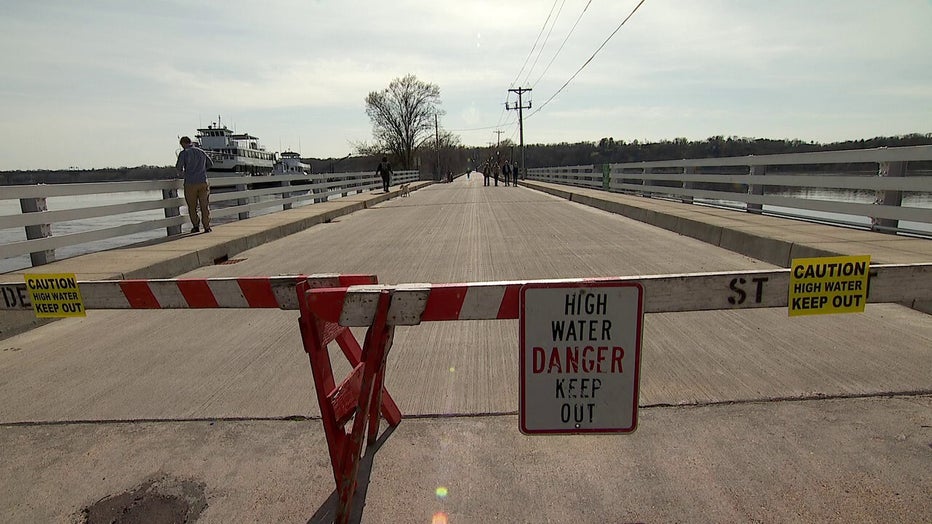 A bridgle blocked in Hudson due to flooding. (FOX 9)
"It's just kind of weird," said Carter Caruso, who brought a couple of friends out to look at the flooding in Hudson. "I haven't seen anything like this, and it's just cool, I guess."
"We were down here two nights ago so I was just looking at how far it's progressed," said Luann Lancette, who brought visiting family members to check it out.
Water is lapping at the side of the walkway across the lake, but a crowd of people still walked across.
Business owners in a few cities say they're benefiting from the flow of flooding onlookers who might have otherwise stayed at home.
"If they want to come out and sit on the deck and ooh and ahh at the water, that's fine with me," said Mitch Wormington, an owner at Muddy Waters in Prescott, WI.
His restaurant and bar sits along the confluence of the St. Croix and Mississippi, but high above the still-rising water.
Wormington is worried — not about flooding so much — but about high water restrictions on boating that could keep some customers away for weeks.
"I've always said you can't compete against Mother Nature," Wormington said. "She's always going to win, and we're kind of along for the ride."
The St. Croix is expected to crest here late this week and start receding, but it will probably stay in flood stages for at least another week.
The Crow River in Delano, Minn. (Rose Schmidt)
Flooding along the Crow River
Delano city officials said the last time the Crow River was this high was nine years ago. The river, currently in major flood stage, is expected to crest Wednesday. Public Works crews installed the floodwall downtown Tuesday morning "out of an abundance of caution" due to the potential for rain in the forecast. The floodwall infrastructure was built in 2014. 
"I believe this is the second or third time we've had it in and used it. So it'll help protect the public, keep them on (one) side of the water 10 and help keep the river on (the other) side of the water, protecting our businesses and residents downtown," Delano Mayor Holly Schrupp said.
Business owners applauded the city's flood mitigation efforts, saying they can remember floods more than a decade ago when water used to pour into downtown streets, flooding homes and businesses.