Fight breaks out at Eastern Carver County school board meeting on mask requirements
CHASKA, Minn. (FOX 9) - Things got heated Monday night at an Eastern Carver County Schools board meeting about a new mask mandate for the district.
Two men got into a scuffle at the school board meeting after one of the men appeared to take a picture of the other without telling him. The fight broke out as people had been speaking about their support or opposition to a mask mandate, which the district approved.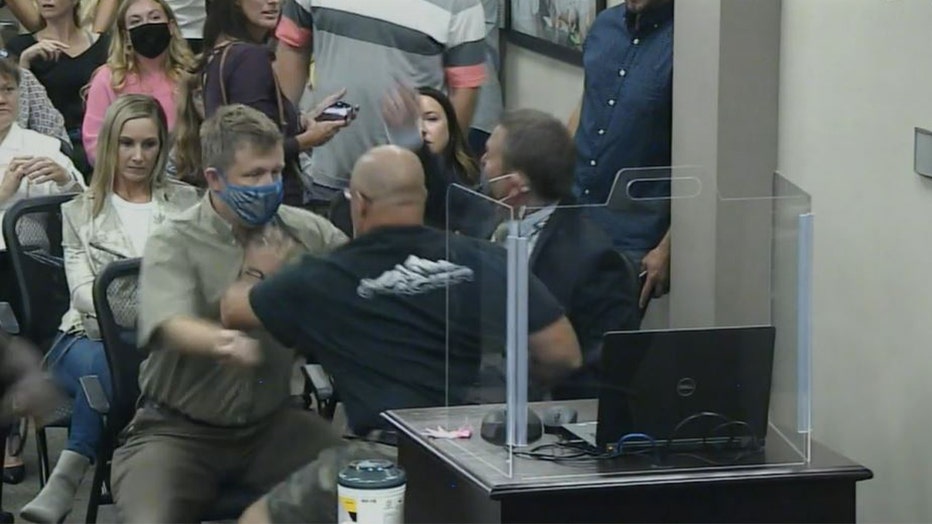 A fight broke out between two men at an Eastern Carver County Schools board meeting Monday night.  (FOX 9)
According to the district, COVID-19 cases in the area have been rising steadily over the past several weeks. Last Tuesday, Carver County crossed the 14-day average of 50 cases per 10,000 residents. As a result, the district is making changes to its masking requirements.
The mask requirement for Pre-K through 6th grade students will be extended through October. Students in grades 7-12 will be required to wear masks starting Wednesday through Oct. 15, at which point the district will make a decision about whether to extend the requirement. 
The Chaska Police Department said an officer escorted one of the men out of the boardroom. The officer requested assistance from officers on patrol. Additional officers arrived shortly after the altercation and helped gather information from witnesses and involved parties.
The Chaska Police Department is currently investigating the incident. At this point, no formal charges have been filed.