Death of Khalil Azad: Students join family in protest questioning police narrative
MINNEAPOLIS (FOX 9) - Student activists and the family of Khalil Ahmad Azad, who was found dead two days after an encounter with the Robbinsdale Police Department last summer, held a rally in downtown Minneapolis Monday questioning the circumstances of his death and calling for the release of body cam footage and an independent investigation. 
"I just want justice, and I want answers because I don't want another family like mine to go through what we've been going through," Azad's mother, Fatomeh Azad told media and a crowd of about 75 students from high schools across the metro who gathered in front of U.S. Bank Stadium on Monday.
Azad, 24, was found on the shoreline of Crystal Lake in July 2022, two days after allegedly fleeing from Robbinsdale police when he was pulled over for suspected DWI.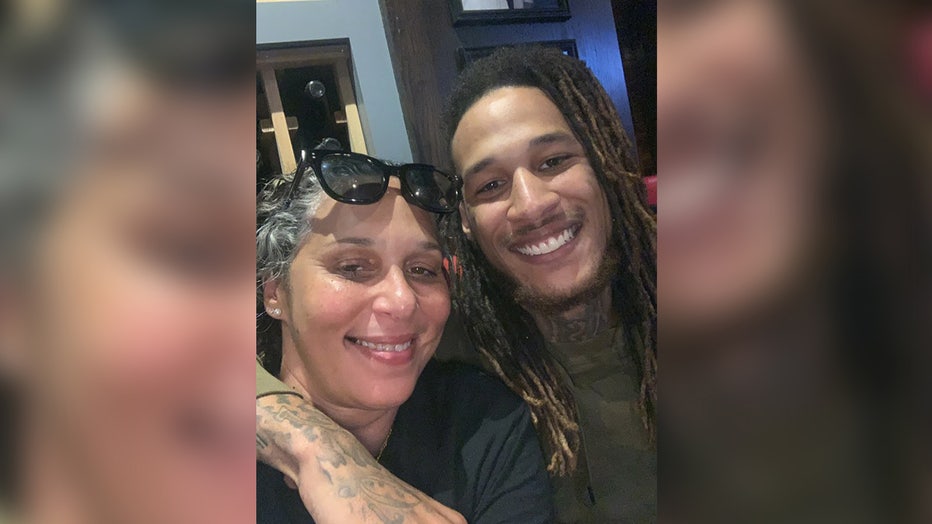 Khalil Ahmad Azad with his mother Fatomeh Azad. (Image provided)
The police narrative 
The Robbinsdale police claim at 1:27 a.m. on July 3, 2022, officers attempted to pull Azad over on the 4200 block of County Road 81, and he took off with a male and female passenger in the car.  
According to police, officers pursued, and Azad lost control of the vehicle, hit a curb and a tree, and then fled on foot. 
Police say they then interviewed the passengers, and a Minnesota State Patrol helicopter used a thermal imaging system to search for Azad but did not locate him. 
At 1:48 a.m., police say a K9 unit was brought in to help with the search, but also did not find Azad. Police say they ended the search at roughly 2:20 a.m. 
Police say after Azad fled on foot, and no officer or police dog had any contact with him. 
Questions over photos 
However, activists and the family point to photos of the decomposed body that have been widely circled on social media. They believe the photos show dog bites and other injuries on Azad's body that police have inflicted. 
"We all know looking at those pictures is something that needs to be done and it shouldn't keep happening," Azad's sister, Ayisha Johnson told the crowd.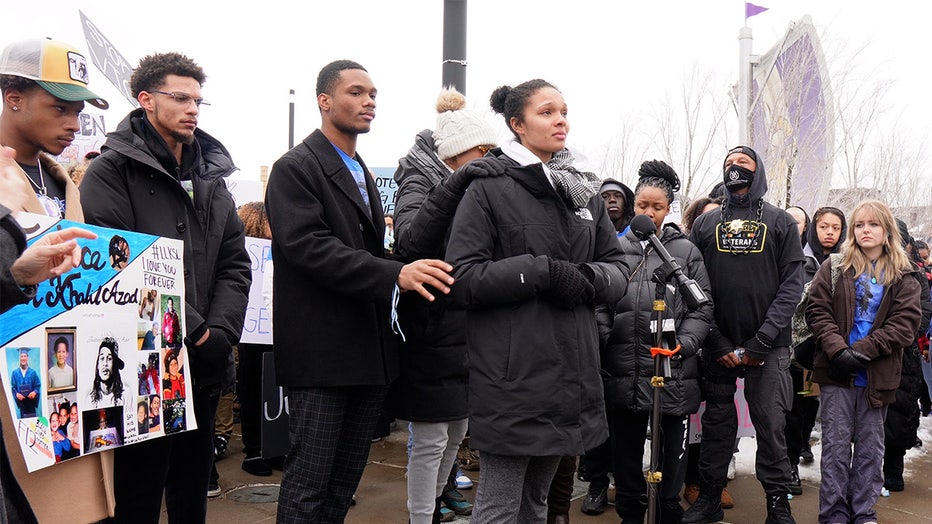 Ayisha Johnson, the sister of Khalil Ahmad Azad, is comforted by her mother and a student organizer during a press conference and rally held in downtown Minneapolis on Monday. (Jared Goyette / FOX 9)
Johnson added she had been very close to her brother, and his daughter was born two months after his death. 
"He always made sure to tell us to take care of his daughter, so we get to cherish his daughter," she said, fighting back tears. 
Student activists spoke afterward, calling for there to be an independent investigation of all the agencies involved, including the Hennepin County Medical Examiner's Office. 
In a press release, activists with MN Teen Activists, the student group that organized the rally, indicated the family is trying to have an independent forensic specialist review the autopsy. 
The task may prove challenging. An article published in 2017 by James Caruso in the journal of Academic Forensic Pathology on "Decomposition changes in Bodies recovered from water," indicated that it can be difficult to interpret wounds on bodies that have been submerged for extended periods of time.
It said: "...postmortem changes alter the appearance of the body, making wounds and other evidence of the body's interaction with the environment more difficult to interpret or even recognize."