Capitol preservationist: No one formally petitioned for Columbus statue's removal before toppling
ST. PAUL, Minn. (FOX 9) - No one submitted a formal letter seeking removal of the Christopher Columbus statue from the Minnesota State Capitol grounds before a group of protesters toppled it Wednesday night, the lead preservationist of the Capitol area said.
Capitol Area Architectural and Planning Board executive secretary Paul Mandell said advocates have publicly voiced complaints about the statue and called for its removal, but never filed a formal petition since 1987, when he started working for the board.
About 150 protesters gathered Wednesday afternoon, tied two ropes around the statue's neck, and brought it crashing down onto the sidewalk with no resistance from the state. The protesters -- many of them Native Americans affiliated with the advocacy group American Indian Movement -- called it a healing moment because Columbus conquered and killed Native people.
"This is still vandalism. There is a process," Mandell said in a phone interview Thursday.
John Harrington, the state's public safety commissioner, acknowledged having at least two hours' notice of the group's intentions, which it had posted on Facebook. Harrington said the state had prepared 25 troopers, but they didn't leave the Capitol until the statue was already on the ground.
"As the statue came down, the troopers were coming out of the Capitol to secure the area. They were not able to get out there in time," Harrington told reporters. He did not say why troopers weren't already guarding the statue, given the advance warning.
Before the toppling, a single State Patrol captain come out and asked the protest organizer to follow the lawful process for removal. A State Patrol spokesman later said the organizer, Mike Forcia, would be charged with damaging public property. 
Republicans blamed Gov. Tim Walz, accusing him of failing to properly protect state property.
"My fear is that if these rioters saw success with this and they saw how easily it was done because the commissioner decided not to deploy appropriately," said state Rep. Jim Nash, R-Waconia. "What's next?"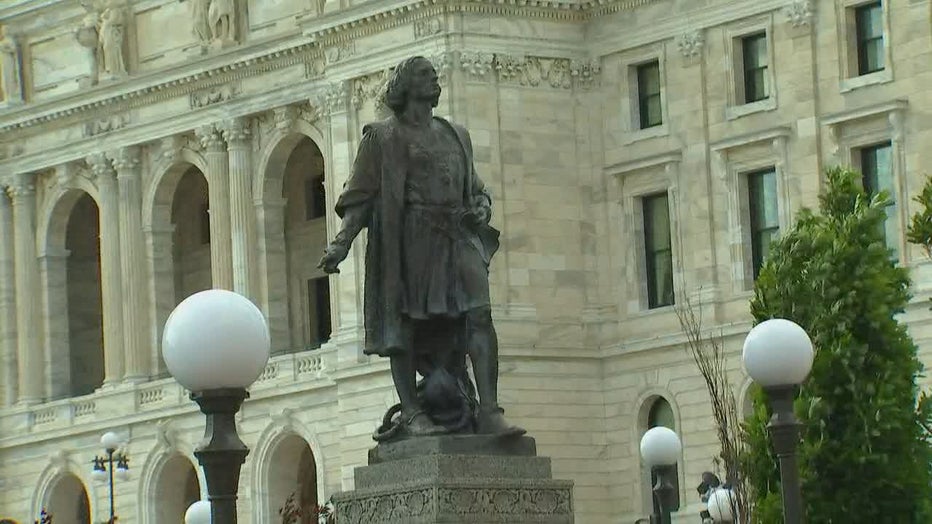 Forcia, who organized the event, told FOX 9 Wednesday night that activists planned to use the lawful process for removal but decided recently "we can't be passive anymore." 
Representatives of the American Indian Movement did not respond to a message seeking comment about Mandell's statements Thursday.
Walz said he didn't condone the protesters' decision to pull down the Columbus statue. But he said the state's lawful process for removing statues isn't clear -- even to Capitol insiders.
"There will be consequences for it. It was an active of civil disobedience that we need to make sure there is a proper outlet to address what they feel are legitimate concerns," Walz told reporters.
The CAAP board has never removed a statue from the Capitol grounds in its 52-year history, Mandell said. Those seeking removal should submit a letter with historical justification for taking a statue down, he said.
The board and Minnesota Historical Society will decide what to do with the Columbus statue and the remaining granite base. It will be a public process, Mandell said.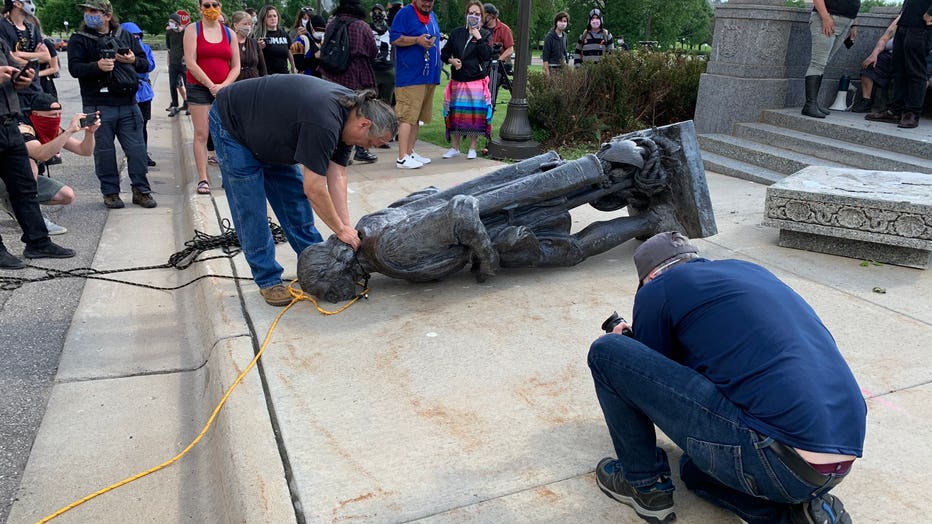 Christopher Columbus statue is taken down outside the Minnesota State Capitol.
Control over the timeline rests with Lt. Gov. Peggy Flanagan, who chairs the CAAP board and holds the power to call for a meeting. Flanagan, the first Native American woman elected to Minnesota statewide office, said she's not sad that the Columbus statue is gone.
"I'm not going to perform for folks. I'm not gonna feign sadness. I'm not gonna shed a tear over the loss of a statue that honored someone who by of his own admission sold 9- and 10-year-old girls over sex slavery," Flanagan said at a news conference Thursday.
Flanagan had expressed concern about the Columbus statue long before Wednesday's toppling. At a November CAAP board meeting, she said the Columbus statue and monument to former Minnesota Gov. Knute Nelson interfere with her experience at the Capitol, according to meeting minutes. During Nelson's time as governor in the 1890s, Minnesota drove the Ojibwe off of its native lands.
The felled Columbus statue is in "state control," Mandell said, declining to elaborate on where it's being stored. A private towing company hauled the 10-foot, bronze statue and three broken pieces of the granite base away Wednesday evening.
Flanagan said the state should start a full review of all artwork inside and outside the Capitol. Some of the art portrays dark periods in Minnesota history, including conquests of Native lands, and some of it is inaccurate, historians have concluded.
She also said the CAAP board and lawmakers should review the petition process for getting a statue removed and make it more clear to the public.