American teens' mental health crisis: What's driving this?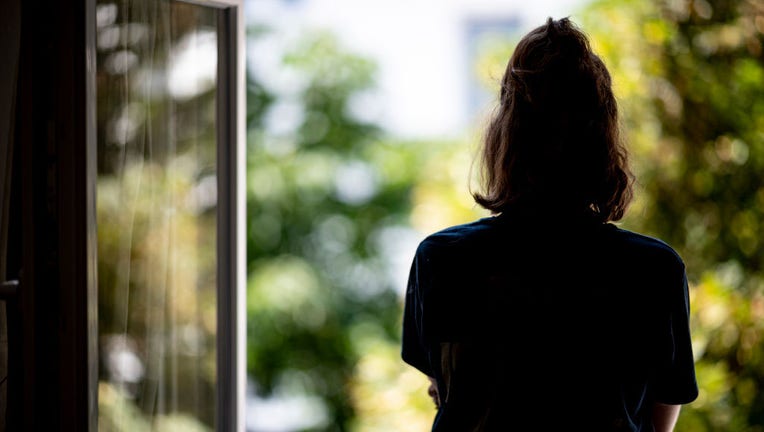 article
A recent report shared by the U.S. Centers for Disease Control and Prevention paints a sobering picture about the state of teenagers' mental health in America – and specifically, a worsening outlook for girls. 
The report, shared earlier this month, details "record-high levels" of violence, sadness, and suicide risk among American teenage girls and those in the LGBTQ+ community. 
Based on a national youth survey of high school students in the fall of 2021, the report states that nearly 3 in 5 U.S. teen girls — or 57% — felt persistently sad or hopeless. The figure represents double that of boys in the same age group and the highest level reported over the past decade, according to the agency.
Nearly 1 in 3 teen girls (30%) had seriously considered attempting suicide—up nearly 60% from a decade ago, according to the report. 
One in 5 (18%) experienced sexual violence in the past year, which was up 20% since 2017. And nearly 15% said they had been forced to have sex at some point — up 27% since 2019 and the first increase since CDC began monitoring this measure.
It was the first look at many of these measures since the pandemic. But many of these worrying trends appear to have begun before the world knew the word COVID, and likely only worsened during it.
"We're seeing really high rates of suicide and depression, and this has been going on for a while," psychologist Kimberly Hoagwood, PhD, a professor of child and adolescent psychiatry at New York University's Grossman School of Medicine, said in a statement. "It certainly got worse during the pandemic."
Beyond social isolation and disruption to normal schooling, some kids had a parent lose a job or even lost a caregiver to COVID-19. This was on top of growing concerns about social media use, anxiety over mass shootings, climate change, and political polarization. 
"Honestly, when I initially saw this report, I, unfortunately, was not really all that surprised," Aja Chavez, executive director of adolescent services at AMFM Healthcare in Southern California, told FOX Television Stations. 
Chavez works with young people between the ages of 12 to 17 as part of an adolescent residential program called Mission Prep, which she developed. The program serves teens who struggle with mental health and behavioral issues – including anxiety, depression, social challenges, post-traumatic stress disorder, and technology dependence, and are in need of additional support. 
"It really is trending with what I'm seeing in the clients that we work with at Mission Prep and what I'm hearing as a clinician and what I'm hearing from families," she said of the CDC's findings.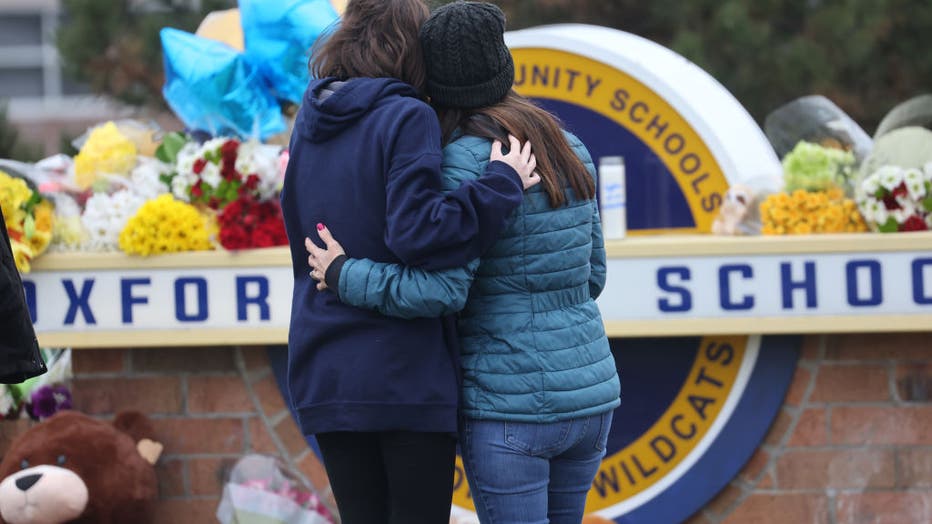 FILE - People embrace as they visit a makeshift memorial outside of Oxford High School on Dec. 1, 2021 in Oxford, Michigan. Four students were killed and seven injured when a gunman opened fire at the school. (Photo by Scott Olson/Getty Images)
What are some likely factors contributing to this? 
For parents, these statistics can be anxiety-provoking and some issues – including smartphones and social media usage – weren't even fathomable during their own adolescence.
"We're certainly looking at the accessibility and the high-end use of cell phones, of media consumption and of the social media that teens are being exposed to and utilizing now," Chavez said. 
Chavez, who is also a clinician and has been working in the field for 10 years as a therapist and counselor, said technology itself isn't the issue – but rather some of the social pressures that young people are exposed to while using it.
"I also think that there's been a drastic increase in the sense of disconnect," Chavez said. "Even though we have all these technologies that are really created to help us connect and help us communicate regularly, I think it really has created a divide in the sense of belonging." 
This lack of connectedness can often translate into a huge sense of loneliness for teens. 
The American Psychological Association also highlights how the age of puberty has been dropping for decades, especially in girls, which can lead to difficulty processing complex feelings and knowing how to handle them.
These developmental changes can drive young people to seek attention and approval from their peers, the APA explains. For some teens, social media can fulfill that need by providing connection and validation in a healthy way. For others, negative messages — including online bullying and unrealistic standards around physical appearance — can have a detrimental effect, the APA says.
"There is clearly some aspect of young people's online life that's contributing [to the mental health crisis], we just don't know exactly what that is," social psychologist Kathleen Ethier, PhD, director of the CDC's Division of Adolescent and School Health, said in the APA's 2023 trends report.
Not to mention, poverty, food insecurity, homelessness, and lack of access to health care and educational opportunities can also lead to some of these noted mental health challenges.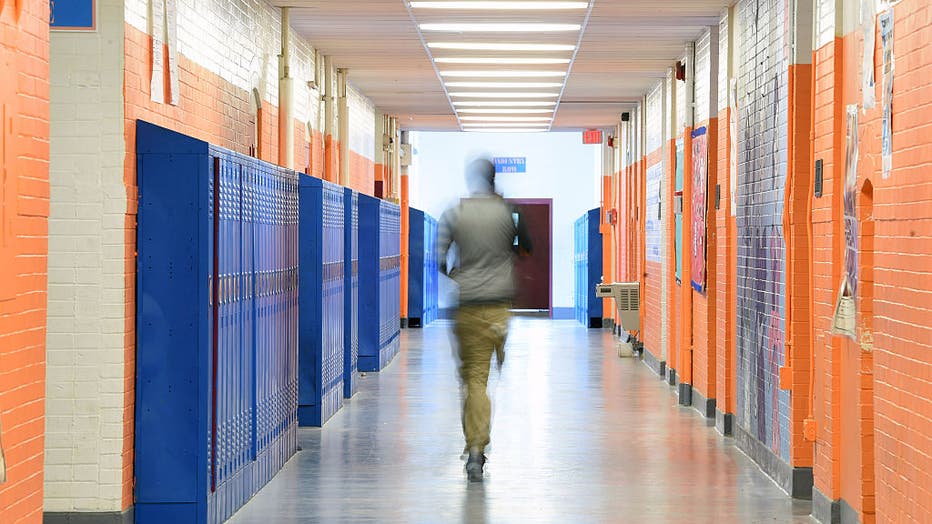 FILE - A high school student walks through a hallway on June 15, 2015, in Washington, D.C. (Photo by Matt McClain/ The Washington Post via Getty Images)
What can be done to help?
Last fall, psychologists in the field put forth new mental health recommendations for young Americans via the U.S. Preventive Services Task Force. 
The panel, made up of a group of volunteer health professionals who evaluate evidence on various preventive health services, began recommending regular anxiety screenings for youth ages 8 to 18 and regular depression screenings for adolescents ages 12 to 18.
"I see these trends in children's mental health problems as being critical, but there are solutions," Hoagwood said in the APA statement. "If we refocus our efforts toward those solutions, we could see some of these tides turn."
The CDC's report also stated how school-based activities can have a profound difference in teens' lives "with a relatively small infusion of support to schools," noting how more than 95% of young Americans spend much of their daily lives at school.
"While their primary goal is academic learning, schools can take evidence-based steps to foster the knowledge, skills, and support needed to help prevent and reduce the negative impact of violence and other trauma and improve mental health," the CDC said.
The agency suggested that schools provide education that equips teens with understanding and ensuring true sexual consent, managing emotions, and asking for what they need. 
"Young people are experiencing a level of distress that calls on us to act with urgency and compassion," CDC Division of Adolescent and School Health Director Kathleen Ethier, Ph.D., said in the APA statement. "With the right programs and services in place, schools have the unique ability to help our youth flourish."
But to Chavez, who received a bachelor's degree in education and began her career in schools, that's a lot of pressure to put on schools. 
"I have seen that schools, teachers, counselors, principals – they desperately want to help and serve the students that are in their care, and I do not think that they have the resources to fully be able to assist all of the students that are struggling right now," Chavez said.
A 2022 Pew Research Center survey found that only about half of U.S. public schools offer mental health assessments and even fewer offer treatment services. The APA noted how psychologists have been working to better equip schools to support student well-being.
School connectedness, or the degree to which young people feel that adults and peers at school care about them and are invested in their success, is a key contributor to mental health, according to the APA.
Research has suggested that youth who felt connected during middle and high school have fewer problems with substance use, mental health, suicidality, and risky sexual behavior as adults.
The CDC funds school districts to make changes that can foster school connectedness through its What Works in Schools program. This includes improving classroom management, implementing programs that promote inclusion and make schools safer for LGBTQ+ students, as well as youth development programs like mentoring and service learning projects.  
Benefit of social media: An online push to destigmatize  
To Chavez, one benefit of social media that she's observed among her patients is the huge push online to destigmatize mental health and therapy. More so now than ever, young people are reaching out for help, too. 
"I'm seeing a huge increase in adolescents seeking out mental health services, and that's actually across the board for males and females," Chavez said. "They're going to their parents, and they're asking for it, and they're speaking to their peers about it… It creates a lot of hope."
She suggests that parents "pause throughout the week," and check in with their children amid all the busy schedules and happenings in life. 
"We might not see it in their behaviors, and so ask them, 'Are there areas that you're struggling in? What do you find challenging in your week or in your relationships? Are you, do you find worry showing up for you? What does worry look like?'"
"These numbers are staggering," Chavez continued. "As a mother, a parent, it can be scary to see this. I think it's really important to remember that there are resources, and there is hope."
This story was reported from Cincinnati.