Air quality alert issued Monday due to smoke from Canadian wildfires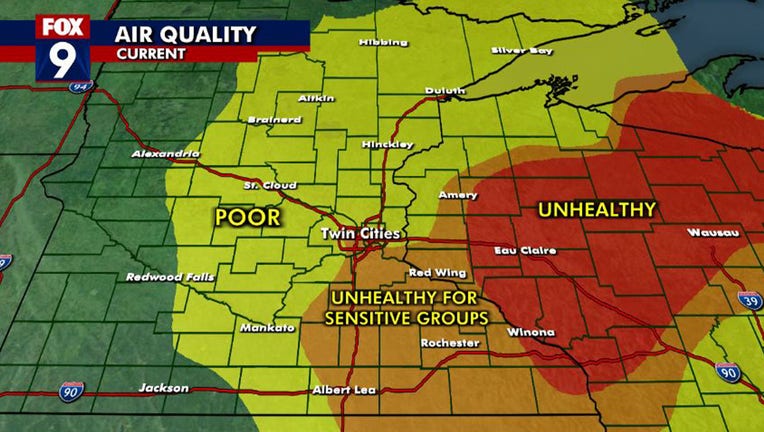 article
MINNEAPOLIS (FOX 9) - The Minnesota Pollution Control Agency (MPCA) has extended an air quality alert for east central and southeastern Minnesota until 12 a.m. on Monday, June 5.
The alert is issued due to wildfire smoke that continues, and is expected to reach a level that is unhealthy for most Minnesotans throughout those regions. The predominately affected area includes the Twin Cities, Albert Lea, Rochester, Mankato, and the tribal nation of Prairie Island.
The MPCA says the band of smoke is caused by wildfires in Quebec, with the heaviest smoke expected to be near Rochester and Winona.
Fine smoke particle levels are expected to reach the red Air Quality Index (AQI) category – a level considered unhealthy for everyone, across southeast Minnesota, and the MPCA advises people should avoid prolonged time outdoors in those areas.
In the orange AQI category, the fine particle level is considered unhealthy for sensitive groups, including people who have asthma or other breathing conditions, people who have heart disease, high blood pressure, or diabetes, people who are pregnant, and children/older adults. Symptoms can include irritated eyes, nose, and throat, coughing, chest tightness, or shortness of breath. 
Air quality should improve Monday evening as thunderstorms will help remove smoke particles from the air.